It's a plugged-in tipster that forwards the latest renderings for the San Francisco General Hospital addition and directs our attention to the Webcor overview:
The 448,000 sq ft steel moment frame structure will have two levels below grade and eight levels above grade including a mechanical penthouse. Ties to the existing hospital will be made by means of a tunnel at the B1 level and a bridge at the 2nd floor. The building will be constructed on base isolators to withstand a major seismic event.
The project will be built in 4 phases. Phase I consists of site utilities relocation and replacement. Phase II consists of service building modifications and equipment additions. Phase III consists of excavations, foundations and structure frame. Phase IV consists of the new Acute Building Enclosure and build out. The new hospital is seeking a minimum of LEED Silver certification and is expected to open in 2015.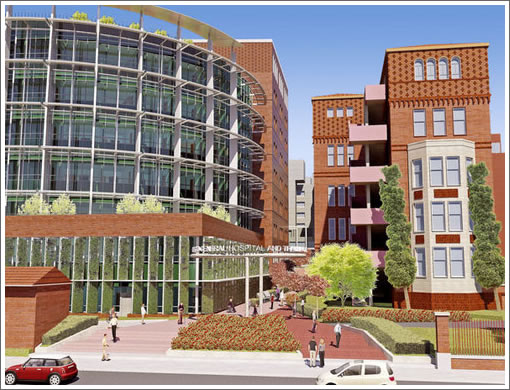 ∙ Project: San Francisco General Hospital [Webcor]