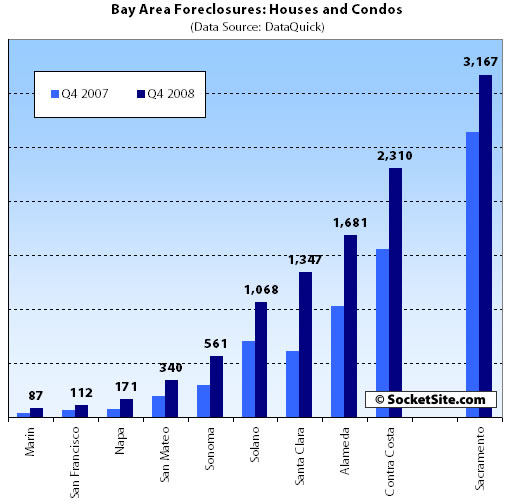 Bay Area Notices of Default (NODs) fell 12% on a year-over-year basis in the fourth quarter of 2008, down 9.6% in San Francisco proper (from 353 to 302). And while the number of new NODs in San Francisco also fell 25% from the third quarter, the lead time changing state law took effect in September is likely to still be skewing the comparisons.
At the same time, actual Bay Area foreclosures rose 68% year-over-year (from 4,573 to 7,677) with Contra Costa (up 48% to 2,310), Alameda (up 64% to 1,681) and Santa Clara (up 120% to 1,347) leading the way with respect to volume.
Fourth quarter recorded foreclosures in San Francisco totaled 112, up 70% on a year-over-year basis but down 42% (80 homes) from the third quarter 2008. Think aforementioned state law (reducing the number of pipeline foreclosures) and last month's foreclosure moratorium by Fannie Mae and Freddie Mac (which was extended through January 31).
Most of the loans that went into default last quarter were originated between October 2005 and January 2007 [versus October 2005 to February 2007 last quarter]. The median age was 29 months, up from 21 months a year earlier.
We continue to move from those who were simply undercapitalized to begin with to those who had a bigger cushion in the bank.
∙ Temporary Drop in California Foreclosure Activity [DataQuick]
∙ Actual San Francisco Foreclosures Up 36% QOQ (191% YOY) [SocketSite]