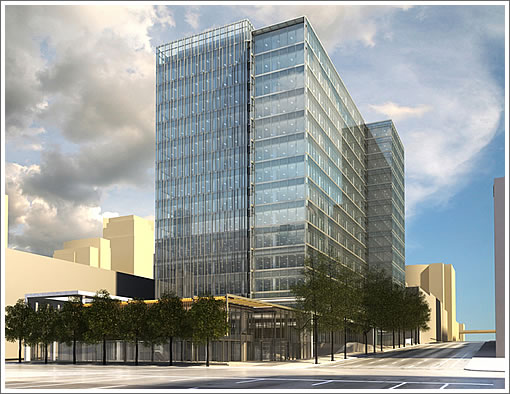 Additional details on the redevelopment and redesign of 680/690 Folsom we showcased in February:
Two floors are being added to the 12-story structure and the floorplates will be expanded as well, pushing the edge of the building toward Folsom Street. The glass, steel and granite lobby will have 30-foot ceilings with floor-to-ceiling glass and a floating staircase.
All told, the rehab will increase the building from 400,000 square feet to 505,000 square feet, with 440,000 square feet of office and 10,000 square feet of retail at 680 Folsom St. (formerly called 666 Folsom) and 55,000 square feet of offices at the abutting 50 Hawthorne St.
The ground floor will have a restaurant and TMG is in early talks with the Museum of Performance & Design — formerly the San Francisco Performing Arts Library & Museum — which is interested in moving from the Veterans Building in the Civic Center.
∙ Reinvention under way at Third and Folsom [Business Times]
∙ Wet Weekend Special (And Scoop): The Designs For 680/690 Folsom [SocketSite]