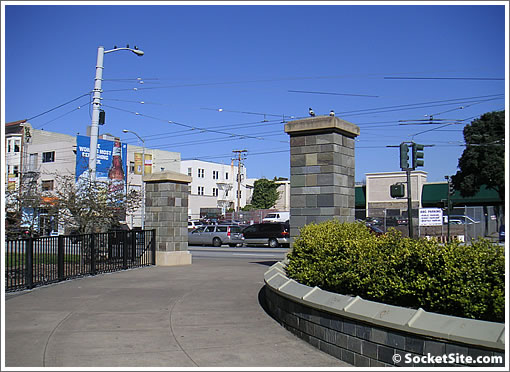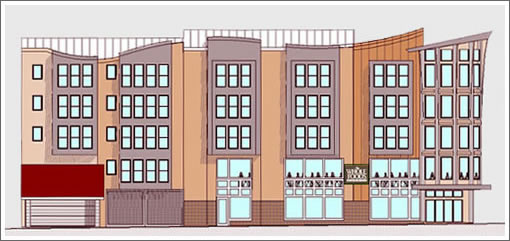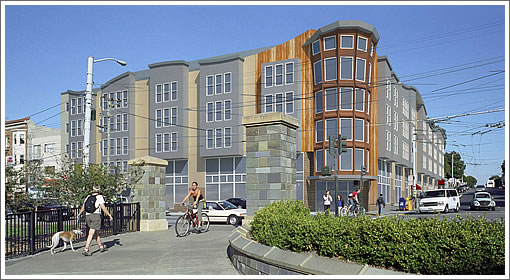 The proposed demolition: The vacant 24-foot-high, 23,600-square-foot (sq.ft.) retail building (Cala Foods) and removal of the existing 42-space parking lot at 690 Stanyan.
The proposed project: A "four-story," 115,400-sq.ft. retail/residential building with a 34,400-sq.ft. ground-floor specialty grocery store (Whole Foods), 62 residential units in 81,000 sq.ft., and an additional three-level, 176-space subterranean garage (90,000 sq.ft.) with 114 grocery store parking spaces and 62 residential parking spaces. 26 studio units, 20 one-bedroom units, 15 two-bedroom units, and one three-bedroom unit.
The Planning Commission hearing: Tomorrow (2/28/08), 1:30 p.m., City Hall (Room 400).
The point: Show up and show your support (or not).
UPDATE: Thanks to a plugged-in tipster we add a rendering and additional insight: "The final design was a real collaboration between architect [Stephen Antonaros] and neighbors (The Haight Ashbury Improvement Assn) and resulted in the creation of a mezzanine level cafe overlooking Golden Gate Park, something the neighbors preferred over the street level cafe the Planning Dept was pushing for."