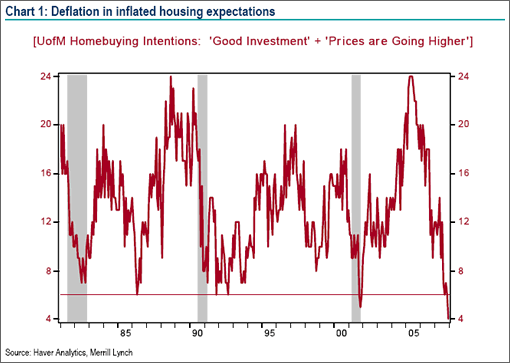 The title of yesterday's Economic Commentary from Merrill Lynch: "Housing deflation could be a multi-year process." And the executive summary:
Both the near-term and longer-run outlooks for the housing market remain clouded in what is a severe downturn in starts, sales and prices that has become national in scope. As we saw in the November housing starts data, the builders are now frantically cutting production.
But with the sales backdrop still softening, they may have to slice their construction plans by another 30% before we hit bottom on a cyclical basis. And, that bottom could be as long as a year away. Beyond that, weak demographic fundamentals point to years of sluggish real estate activity, particularly in terms of the "price". The looming dominance of the "move down" buyer suggests that home values will continue to soften long after the building industry mops up the current excess supply. In fact, real estate pricing in general can be expected to be in the doldrums through 2012.
The need to save for retirement will have to increasingly come "organically" in the form of setting aside an extra nickel or dime from every dollar earned in after-tax wages and salaries as opposed to what we as a society have been doing for the better part of the past decade, in essence, blurring the distinction between real estate as a "consumption good" (place to live) and real estate as part of the "portfolio" (investment) that was going to experience sustained double-digit appreciation and emerge as a fountain of cash-flow in the future.
Expectations are already in the process of being deflated and we are at the early stages of a savings revival in the traditional sense of the word, and this will (i) be deflationary for the aggregate demand curve; (ii) be bullish for Treasury bonds; (iii) act as an underpinning for the dollar insofar as this process continues to foster an improvement in the current account deficit (which, excluding energy, is down to a six-year low).
See the chart [above] – at the height of the bubble, almost one in four households who were contemplating a move into real estate based their decisions on future price appreciation. This "investor class" that dominated the housing market for so long has now seen its share dwindle to a record low of 4%. This is a very big deal as it illustrates just how far the speculation has been expunged, and it also heralds a major (and healthy) shift in how the public now perceives real estate.
And while the report is national by nature, there are obviously themes that might resonate right here at home. And of course, there's the punch line:
Here is what we really "do not get". There are still economists out there talking about how the housing recession is still local and not regionally broad based. We have no idea who their data vendors are. In our view, this clearly goes down as the most national real estate downturn since the 1930s.