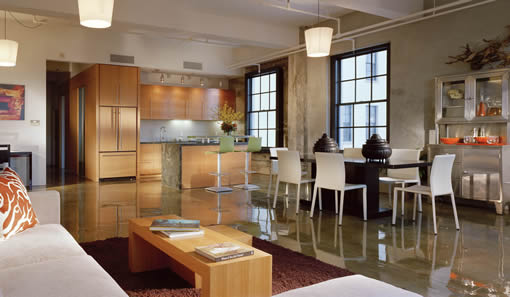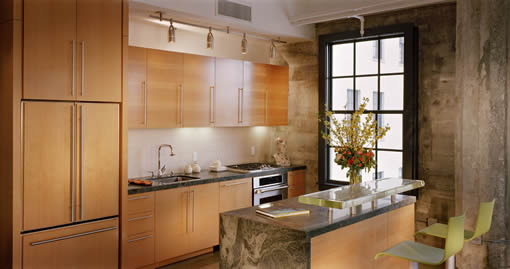 The morning coffee hasn't kicked in around the office, and until it does, you'll just have to make due with a couple of pretty pictures. Mochaccinos to the rescue…
First and foremost, while the 52 units at 410 Jessie ("Hales Warehouse") are being sold (50 market rate and 2 BMR), the 25 units at 418 Jessie ("Station House") will be leased (at least initially).
And although the first official broker's tour and "sales office" opening (414 Jessie alongside the "Mint Lounge") aren't currently scheduled to occur until later this month (yes, it's a moving target), around half of the units at 410 Jessie have already been reserved (a combination of "friends and family" and those who have pro-actively called the developer).
As you might recall, the top six floors (5-10) of 410 Jessie were previously converted into leased live/work loft spaces and are currently undergoing a complete upscale remodel (see pictures), while floors 2-4 are in the process of being converted into more traditional condominium floor plans (with the same quality of finish as the upper floors). Lack of light and street noise might be a factor in some of the lower units, but the quality of finish is impressive throughout.
A couple of building features that we've previously mentioned: a shared rooftop deck, grill, and fitness center; daytime concierge and 24-hour security; forced air heating/cooling. And one that we haven't: a small "doggy pad" on the roof.
In terms of parking, there are five three-car parking lifts in the building. One space is reserved for a black convertible Mini Cooper that's exclusively available to residents of 410-418 Jessie (through City Car Share), while the other 14 spaces (11 of which are already reserved) are licensed to specific units. License holders pay $300/month for parking and can "sublet" their space to other residents in the building.
Monthly HOA fees are expected to run in the neighborhood of $0.60/sqft and the first wave of occupancy (top floors first) is now expected to occur in May/June (again, a moving target). Some representative pricing (for units which are actually available):
∙ 410 Jessie Street #201 (2/2) 1,229 sqft – $960,000 (with parking license)
∙ 410 Jessie Street #305 (0/1) 433 sqft – $490,000
∙ 410 Jessie Street #401 (2/2) 1,229 sqft – $1,020,000 (with parking license)
∙ 410 Jessie Street #404 (1/1) 631 sqft – $590,000
∙ 410 Jessie Street #503 (1/1) 1,107 sqft – $750,000
∙ 410 Jessie Street #504 (1/1) 1,363 sqft – $975,000
∙ 410 Jessie Street #701 (1/1) 1,240 sqft – $1,020,000 (with parking license)
∙ 410 Jessie Street #905 (1/1) 996 sqft – $890,000
Our pick of the litter (so to speak) is unit #701: three walls of windows, a parking license, and room to add another "room" (for those with vision). And we'll have more on the development of Mint Plaza next week (we're bullish), and details on 418 Jessie soon thereafter (but if you're interested, don't wait for us).