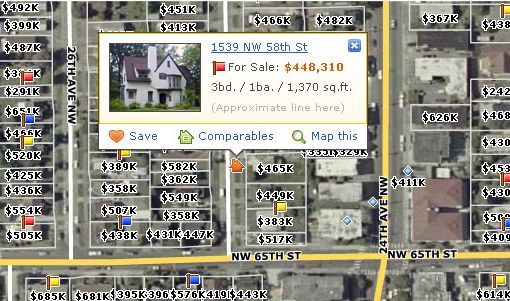 Three days ago we wrote, "Perhaps our real concern should be for the MLS itself. Without some innovative thinking about how to effectively open it up on the front end (i.e., reducing the cost/restrictions of adding/sharing listings), its years could be numbered. (Cue the growing number of alternative listing and non-MLS based real estate search tools.)"
And as if right on cue, last night Zillow announced that they're joining the fray. And it's not only real estate agents, brokers, and builders who'll have the opportunity to plant free virtual "For Sale" signs with listing details and contact information.
Zillow maps now include red flags for homes that are "For Sale," yellow flags for homes that have recently sold, and blue flags for homes that aren't actively on the market, but whose owners might entertain an offer they can't refuse. According to Zillow:
"Make Me Move™"…is [Zillow's] twist on what it means to be "For Sale." Here's the concept: Think about a price that would entice you to hand over the keys to your home and move. We think it's a unique and creative way for homeowners to test the waters and gauge interest in their home, even if it's not actually on the market. Interested home shoppers can then contact them via an e-mail "anonymizer" to get the conversation started.
While Make Me Move is novel (and sure to drive traffic), we have to wonder how much time and energy serious buyers will invest engaging owners who are perceived to be simply "testing the waters" and haven't committed themselves to parting with their homes (no matter the price).
We expect to see growing pains with regard to the quality and quantity of listings, and perhaps some seller apprehension with regard to the juxtaposition of list prices and "zestimates." And in terms of agent/broker adoption, only time will tell if Zillow's offerings are embraced as complimentary (additional distribution) or shunned as competitive (aiding disintermediation).
Regardless, it's a shot across the bow of the MLS. And it's another catalyst for industry innovation.
∙ The Wrong Reasons (The Right Results?) [SocketSite]
∙ We're Opening It Up! [Zillow Blog]