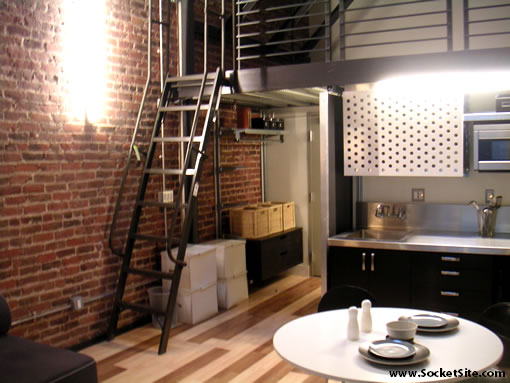 The final fifteen condominiums at Book Concern Building have been released and mostly studios remain. Official footprints are undeniably small (ranging from 256 to 500 square feet), but many of the units offer an additional 100+ square feet of loft storage space (i.e., unofficial sleeping space). And for the most part, the condos are well designed (although we'd upgrade a number of the finishes).
Overall, we're fans.
Prices for the remaining units range from $258,000 to $451,000 (HOA dues from $275-$360/mo) and the building has received its temporary certificate of occupancy (i.e. you can close escrow and move in).  Gym, laundry, and "multi-purpose room" in the basement; deck on the roof; and a neighborhood that's in transition.
A rundown of the remaining units:
∙ 83 Mcallister #409 (0/1) – $258,000
∙ 83 Mcallister #312 (0/1) – $260,000
∙ 83 Mcallister #412 (0/1) – $273,000
∙ 83 Mcallister #402 (0/1) – $273,000
∙ 83 Mcallister #202 (0/1) – $330,000
∙ 83 Mcallister #211 (0/1) – $335,000
∙ 83 Mcallister #210 (0/1) – $335,000
∙ 83 Mcallister #212 (0/1) – $345,000
∙ 83 Mcallister #301 (1/1) – $364,000
∙ 83 Mcallister #206 (2/1) – $397,000
∙ 83 Mcallister #512 (0/1) – $402,000
∙ 83 Mcallister #504 (0/1) – $407,000
∙ 83 Mcallister #505 (0/1) – $417,000
∙ 83 Mcallister #201 (1/1) – $441,000
∙ 83 Mcallister #208 (1/1) – $451,000