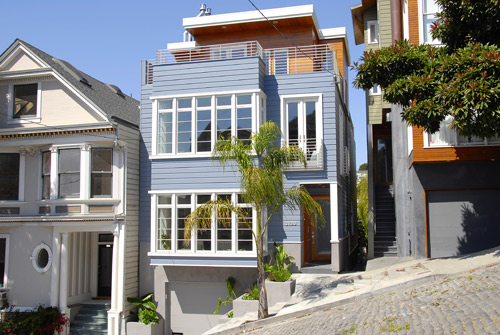 While le blog exuberance applauds the exterior, we're quite impressed with what's inside 2130 24th Street #B (at least based on the pictures).
The South facing lower level condo is three bedrooms and two baths over 1,500 square feet; has a kitchen outfitted with "Bosch Appliances & Scavolini Cabinets" and bathrooms finished with "Carrera Marble, Italian Porcelain Tile & Fossilized Limestone Baths;" and is priced under a million ($979,000).
We'll reserve our final judgment until we've had a chance to do a walk-through (and check out the block), but so far we do like what we see. (And can't help but wonder about 2130 #A…)
UPDATE (9/19): Two thumbs up. It's actually a great block, and the quality of finish and design was even better than expected. On the flip side, it's not quite as "light filled" as we had hoped (but then again we've got ridiculously high standards), and although quaint, do keep in mind that cobblestone streets tend to generate more street noise. And of course, the inside scoop: the upstairs unit (2130a) will most likely hit the market in a couple of months (~1,800 sqft and views).