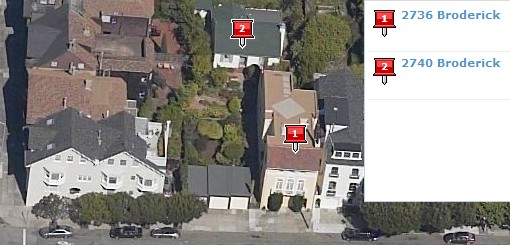 A quick reminder that it's not only future residents of Rincon Hill/SOMA that need to stay 'plugged in' to what's happening with regard to new construction (or renovations) when house/condo hunting.
On Friday, a tipster (thank you!) pointed out the brand-new listing for 2736 Broderick, a beautiful home offering fantastic views. Our tipster also noted, however, that the property next door (2740 Broderick) is a single-story cottage that's situated on the back of its lot, and contributes to those fantastic views (at least for now). From our tipster:
. . . I used your handy link to the building permits posted a few days ago to look up permits for 2740, the cottage. 3 permits were approved two days ago: one to tear down the cottage, one to tear down the one story garage, and one (surprise, surprise) to erect a three story residence . . . Two days later, [2736 Broderick is] for sale.
And while it sounds like the listing agent for 2736 Broderick is doing a great job of keeping prospective buyers in the loop ("I was at the open house and the agent was very up front about the construction next door. They even had the plans for the new residence right next to the best view window that was being blocked…"), keep in mind that you might not always be so lucky.
∙ Competition, Rates, And Plugging In [SocketSite]
∙ Listing: 2736 Broderick (4/3.5) – $2,995,000 [Hill & Co.] [MLS] [Map]
∙ Fun With Building Permits (And Complaints) [SocketSite]
∙ Online Permit and Complaint Tracking [SFGov]