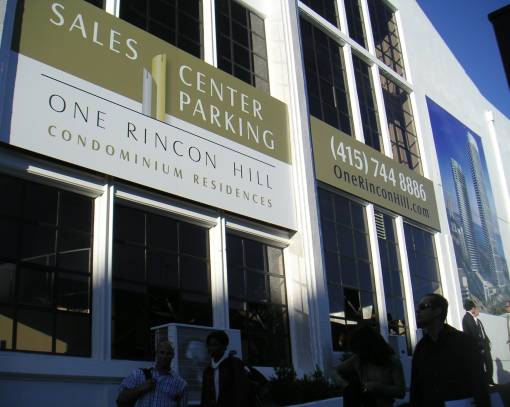 Well, we finally made it over to the multi-million dollar One Rincon Hill Sales Center (511 Harrison) last night for the "Select One" (i.e., not quite VIP) "Preview Event." It lived up to all the hype. And all of a sudden, the sales center at The Palms (amongst others) just seems so early 2006…
Most likely you've already read about the touchscreen kiosks that allow you to browse floor plans, views, and availability (floor plans 02 and 06 appear to be popular); the model unit (floor plan 03) with simulated views from the 45th floor (complete with a little box of grass on the balcony for Fido); and the gaggle of people eagerly awaiting their chance to throw down 3% deposits (we were skeptical of the initial reports, but apparently it's true, well over 200 of the 376 units have already been reserved).
And then there's our first impression of the model unit: small (especially the living/dining area) but relatively well designed; nicely appointed kitchen with Sub-Zero/Bosch appliances and Del Tongo cabinetry (which the uberexpensive collateral materials somehow manage to list as "Sub Zero" and "del" Tongo); and decent closet space but with freakishly cheap doors (hopefully not the final finish). Eight basic floor plans for the majority of the tower (not too sure about the three bedroom/penthouse floors), four basic color schemes, and perhaps 30 floors finishes from which to choose.
The crowd was younger than we were expecting (based on the price point), and there was a palpable buzz of excitement in the air. In fact, it almost felt like people were buying into an exclusive new San Francisco club (and lifestyle) rather than just a new condo development. Based on what we've seen, we'd be surprised if One Rincon has any difficulty selling out in record time (and well ahead of the Watermark).
And as an extra bonus to our loyal readers, we scored the recipe for the "One Gincon": 2 oz. Gin, 1.5 oz lemongrass syrup, splash of ginger puree, ice, and club soda in a tall glass. Now that's a scoop. (Okay, so perhaps they were handing out little recipe cards.)
Now might be an opportune time to talk, discuss, and gossip amongst yourselves.
UPDATE: According to a tipster, 250 deposits were made in the four days of "pre-sales."