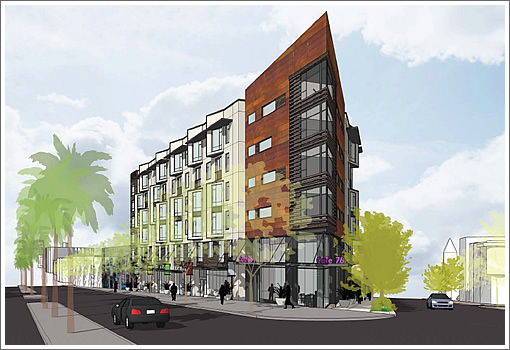 While specific vendors for the proposed "Market Hall" food emporium to occupy two of the three retail space beneath the 88 apartments rising at 2175 Market Street have yet to selected, Forest City's concept calls for multiple local vendors and kiosks to occupy the combined space, similar to the Ferry Building or Rockridge Market Hall, and possibly including a bar.
The development's third retail space on the corner of Market and 15th Streets has already been approved for a restaurant that has yet to be revealed.
This week, San Francisco's Planning Commission is slated to authorize combining retail spaces two and three along Market Street into one 3,900-square-foot hall. And if the food emporium concept fails to materialize, a second restaurant would likely be established in the space along Market Street instead, along with a bit of retail space.