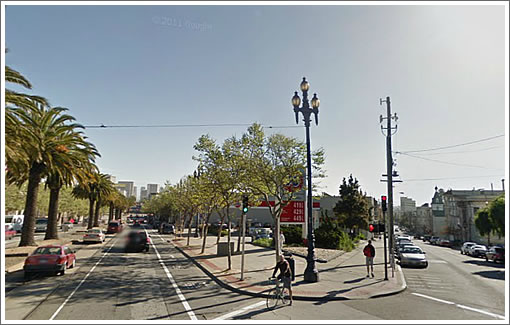 Having acquired the land on which the 76 Station at the intersection of 15th and Market Streets sits last year, Forest City is now joining the fray of Market Street mixed-use developments in the works having submitted their plans for the site to Planning.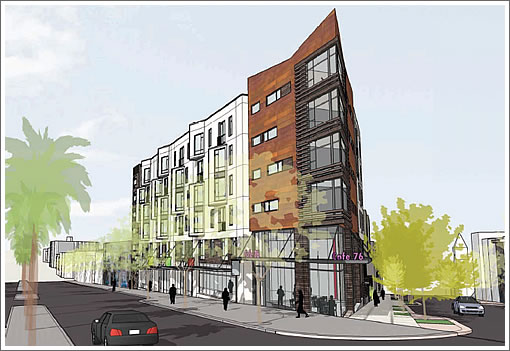 As proposed, 88 apartments will rise over 44 parking spaces and 6,500 square feet of ground floor retail at 2175 Market Street, topped by a 3,791 square foot rooftop deck.
In recognition of the years of work and input by the surrounding neighborhoods on recent rezoning efforts, 2175 Market is designed to be fully compliant with the Market & Octavia Plan, and will not seek conditional use authorization for additional parking, nor for formula retail tenancies. In response to the community's preference for construction of inclusionary units over payment of the in-lieu fee, 15% of the project's apartments will be permanently affordable.

The project endeavors to receive a LEED Silver rating for environmentally sustainable design. In order to achieve this rating, the project will focus on reducing building energy demand and consumption through…energy efficiency measures that include high performing fenestration and the use of Title 24 lighting. Additionally, the project will capture and treat 100% of the onsite storm water runoff through a stormwater infiltration system.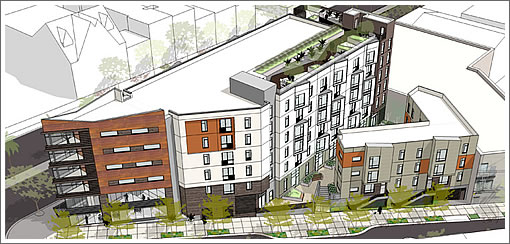 Along 15th Street the project responds to the lower scale residential neighborhood by stepping down to 45 feet from 65 feet at Market Street. This 15th Street building is designed to relate to the height and material typology of its neighbors. The 15th Street frontage introduces stoops, generous landscaping elements and a distinctive entry point, promoting a neighborhood feel. Ground floor units are accessible via stoop entries, helping to activate and place additional eyes on the street.
The Planning Department's review will likely take 6 to 9 months, after which the project will head to San Francisco's Planning Commission for approvals.
As always, we'll keep you posted and plugged-in.
∙ 2175 Market Street: Preliminary Project Assessment Application [2175market.com]
∙ Market-Octavia Plan And Requisite Rezoning Approved By The Board [SocketSite]