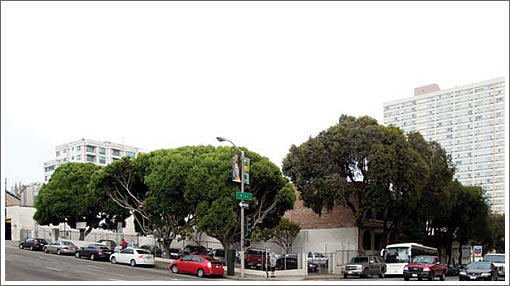 As the northeast corner of Pine and Franklin Streets currently appears above, and as it would look with the two 13-story towers which are proposed to rise with 262 condos over two stories of commercial and 245 parking spaces below: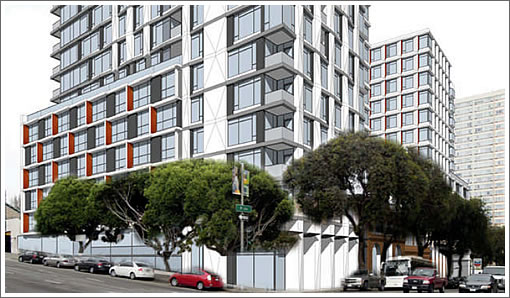 Originally proposed for development with plans for 282 condos in a seven-story building stretching from 1634 to 1690 Pine Street from which a 25-story and 12-story tower would rise, those plans were cancelled in 2007 having raised concerns among area residents.
"People don't want more residential. That's what it comes down to," a San Francisco Planner was quoted as saying about the concerns at the time.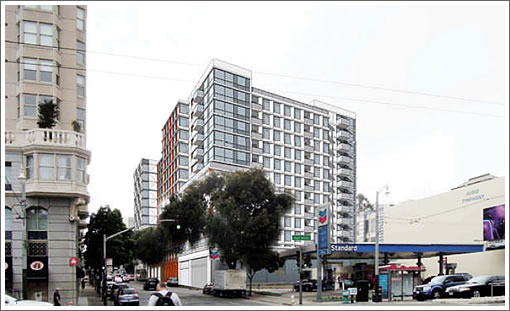 The full scoop with respect to the existing site and design for what is now being proposed:
Currently, the site is occupied by five vacant one- to two-story buildings (two, two-story unreinforced masonry buildings; two, one-story unreinforced masonry buildings; and a one-story concrete building) and a parking lot. Past uses of the buildings include a car rental office and distribution center, furniture showroom, and a warehouse. The parking lot, located on the northeast corner of Pine and Franklin Streets, is 7,563 sf in size, contains no structures, and provides approximately 22 parking spaces.
Four of the structures (1650, 1656, 1660, and 1670-1680 Pine Street) have been recognized as having contextual architectural significance to their neighborhood. In addition, three of the buildings on the project site (1650, 1660, and 1670-1680 Pine Street) were designed by the firm Heiman & Schwartz. Many of the firm's surviving works are local landmarks, either eligible for the National Register or contributory to a historic district. Finally, the buildings on the project site represent a dwindling number of early ancillary automobile-oriented structures, such as storage and repair garages, tire shops, and showrooms.
The proposed project would merge the six lots into one parcel, demolish most of the existing five buildings on the project site, and construct one building with two, 13-story residential towers with commercial use on the ground and second floors. The existing building facades of three of the buildings would be restored and incorporated into the proposed project (click image to enlarge).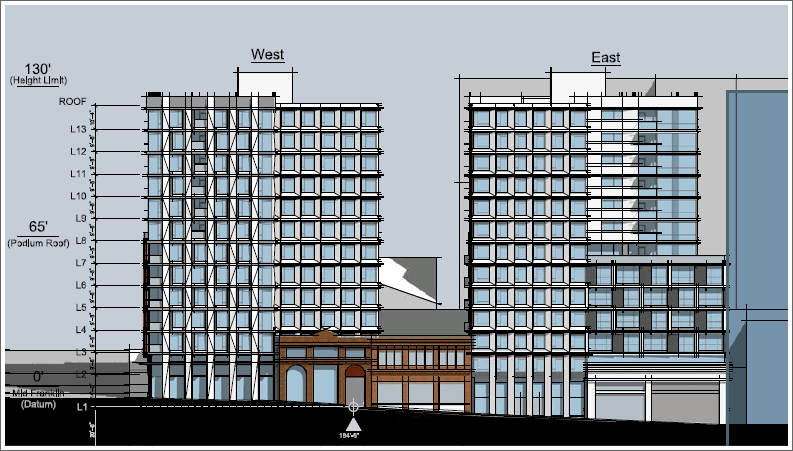 The project would have a total area of 353,360 gross square feet (gsf) and would include approximately 262 new for-sale residential units totaling approximately 221,760 sf; 5,600 sf of commercial space, and 34,600 sf of subterranean parking with 245 parking spaces on one level. No off-street loading spaces are proposed. The proposed towers would be approximately 130 feet tall.
As proposed, the condos would range in size from 530 to 1,600 square feet with a unit mix of 24 studios, 120 one-bedrooms, and 118 two-bedroom units. The subterranean parking level would provide 240 spaces with mechanical stackers and five spaces accessible to persons with disabilities. The basement level would include parking spaces for 91 bicycles.
While the project's proposed uses and heights are allowed by right in the District, the project will require the Planning Commission's approval and authorization with the density, parking, and bulk as proposed. As always, we'll keep you posted and plugged-in.
∙ Who Are These "People" And What The Heck Are They Thinking? [SocketSite]