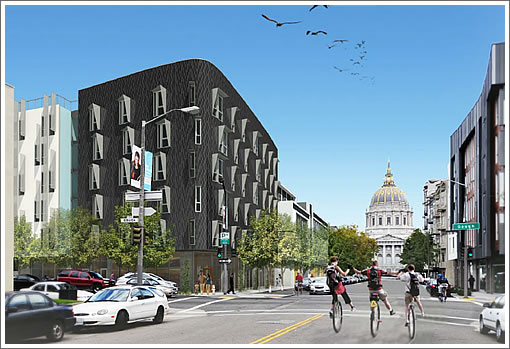 Designed to be built with a black tile façade, the Planning Department requested the architects change the color scheme of the proposed building to rise at the corner of Fulton and Gough in order to win the Department's support and recommendation.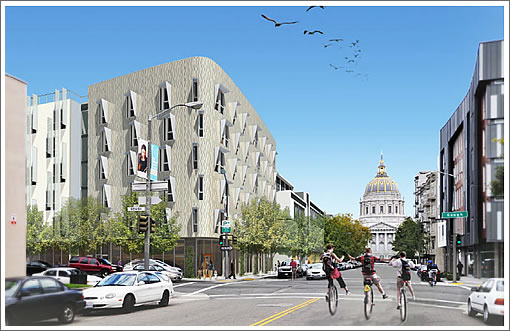 Having gone ahead and presented both designs to the Planning Commission, architect David Baker reports on the outcome:
The San Francisco Planning Commission agreed with us on the darker corner and overruled the Planning Department. It should be clear that most of the building will be a light color: just this corner is darker, a variegated gloss glazed clay tile. The sunshades are anodized perforated aluminum. The gloss finish on the curve will produce a dynamic shifting highlight.
The notion that San Francisco is a city of white buildings is nostalgic, and might have been true at some time in the past. The actual condition is quite diverse with great variation in tonal value. Personally I like things mixed up a bit.
We couldn't agree more. In fact, we wouldn't mind seeing the mixing of even more styles and truly modern design(s) throughout San Francisco.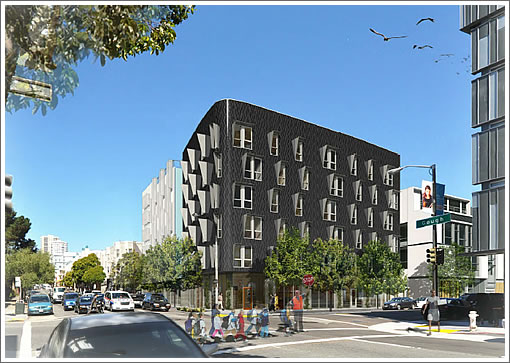 ∙ Black And White In Hayes Valley And In The Ayes Of Planning [SocketSite]
∙ A New Hayes Valley Home For The Boys & Girls (And Adults) [SocketSite]