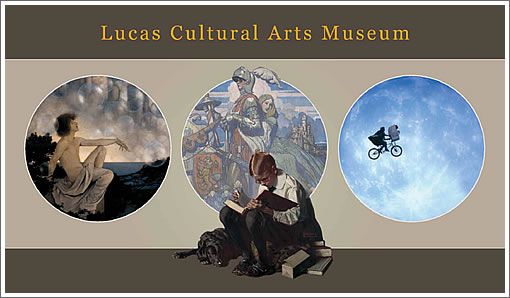 From George Lucas with respect to a proposed Lucas Cultural Arts Museum in the Presidio:
The Bay Area has always been home to forward-thinkers and artistic innovators – people who push to do things that haven't been done before. Men like Eadweard Muybridge, Philo Farnsworth and Steve Jobs. Companies like Pixar, Adobe, and Facebook. There's a history of invention here that's as exciting as it is infectious. That's one of the reasons why I'm here, why I raised my family here, and why I chose to start my own business here. It's also why I chose this remarkable region for a new museum.
I want to create a gathering place where children, parents, and grandparents can experience everything from the great illustrators such as Rockwell, N.C. Wyeth and Maxfeld Parrish, to comic art and children's book illustrations along with exhibitions of fashion, cinematic arts, and digital art. The Bay Area was the birthplace of digital arts three decades ago.
The Lucas Cultural Arts Museum will be a center highlighting populist art from some of the great illustrators of the last 150 years through today's digital art used to create animated and live-action movies, visual effects, props and sketches. They're all united by their ability to capture our shared cultural story—from Rockwell's pencil sketches to computer generated moving images. More than just exhibiting illustration and technological innovation, this cross-section of art can help to describe and define our culture—its past, present, and future. It provides a unique way to see what's emotionally important to us as a society and how we communicate those feelings without words. The best way to truly understand art is to experience it.
The construction of the museum would be fully funded by Lucas and endowed with two $400 million gifts. The full proposal:


∙ Sixteen Proposals For Presidio Site Including A Lucas Arts Museum [SocketSite]