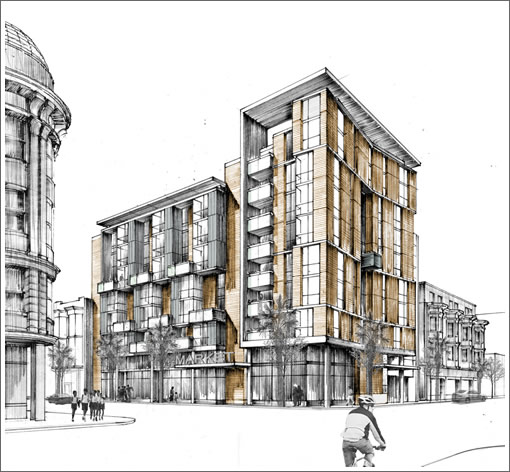 Located within the potential Sixth Street Lodginghouse District, the San Francisco Redevelopment Agency and Mercy Housing requested San Francisco's Architectural Review Committee review and comment on their proposed project at 200 6th Street today.
The proposed work includes demolition of the existing four-story building and the new construction of a new nine-story residential building (dedicated to affordable housing) with ground floor retail and parking.

As designed by Kennerly Architecture & Planning, the new building will feature a total of fifty-six units composed of seventeen three-bedroom flats, twentytwo two-bedroom flats, and seventeen one-bedroom flats.

The new building will have two distinct masses: a larger nine-story mass at the corner of 6th and Howard Streets and a smaller eight-story mass along 6th Street. Overall, the design will be contemporary in style and will feature brick veneer cladding, dark patinated metal siding and exposed structural concrete on the exterior. In addition, the project will feature painted or dark anodized aluminum windows, steel and glass entry marquis, and concrete and translucent glass balcony rails.
The existing four-story building is better known and recognizable to most as the Hugo Hotel, canvas for Defenestration.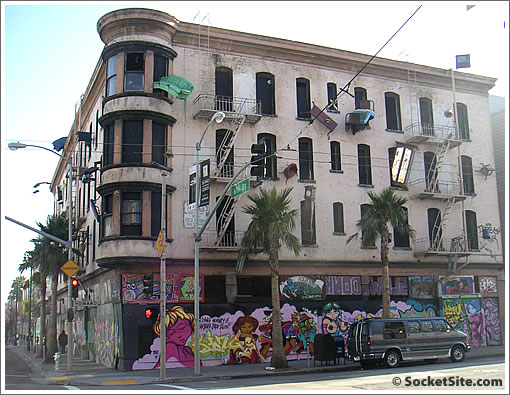 ∙ South of Market Resource Survey Says…Five New Historic Districts [SocketSite]
∙ Review and Comment: 200-214 6th Street [sfplanning.org]
∙ Eminent Domain Suit Semi-Successfully Snatches Hugo Hotel [SocketSite]
∙ Hugo Hotel's Flying Furniture Update, No Word On The Graffiti [SocketSite]
∙ And Now Back To The Hugo Hotel (And Eminent Domain On Sixth) [SocketSite]