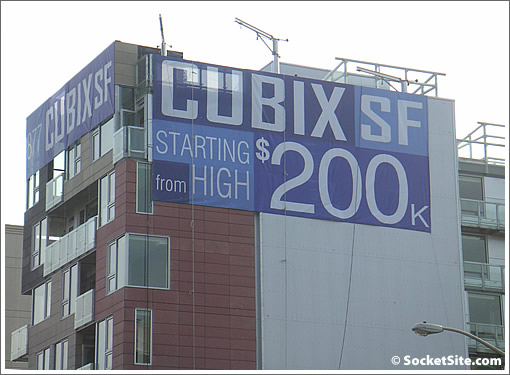 As we (and a plugged-in tipster) noted last month:
It's a plugged-in tipster that first notes that the ninety-eight (98) studios of 766 Harrison aren't going the rental route but are rather about to hit the market as condominiums. Additional details when we have them.
A few of those additional details: 766 Harrison has been dubbed "Cubix Yerba Buena" (our unfortunate first thought, sprockets) and a placeholder website has been launched (let's just say we appreciate the architecture a lot more than the graphic design); prices "starting in the high $200s;" and coming "Summer 2008."
And once again, additional details when we (or our tipsters) have them.
∙ The 98 "Sophisticated/Stylish" Apartments Condos Of 766 Harrison [SocketSite]
∙ From Rendering To Reality (Although Not Quite Finality): 766 Harrison [SocketSite]
∙ Cubix Yerba Buena (766 Harrison) [cubixsf.com]