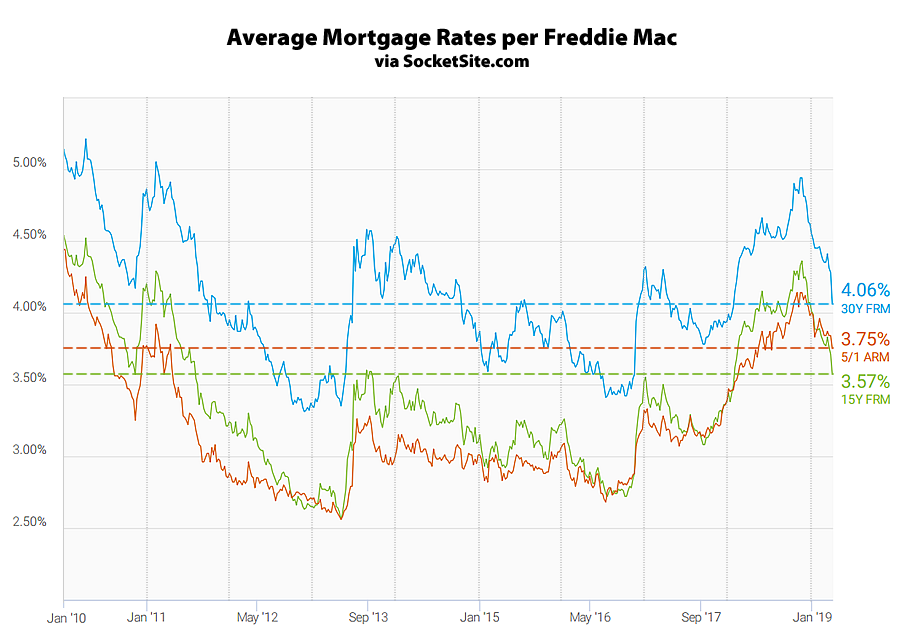 With Fed officials having officially deemed the foregoing of any additional interest rate hikes in 2019 to "be best" for our economy in light of increasing global risks, which shouldn't have caught any plugged-in readers by surprise, the average rate for a 30-year mortgage has since dropped 22 basis points to 4.06 percent, which is the largest one week drop for the benchmark rate in over a decade.
As such, the current 30-year rate is now 38 basis points below its mark at the same time last year, nearly a full percentage point below the 7-year high it hit this past November, and the lowest in 14 months, according to Freddie Mac's latest Mortgage Market Survey data.
At the same time, the average rate for a 15-year fixed mortgage dropped 14 basis points over the past week to 3.57 percent, which is down 74 basis points since mid-November and 33 basis points lower than at the same time last year, while the average rate for a 5-year adjustable dropped 9 basis points to 3.75 percent, which is 9 basis points above its mark at the same time last year and 18 basis points above the 15-year rate.
And according to an analysis of the futures market, while the probability of the Fed instituting another rate hike by the end of this year remains at zero, the possibility of an easing, based on the aforementioned economic weakness, has jumped to 69 percent.