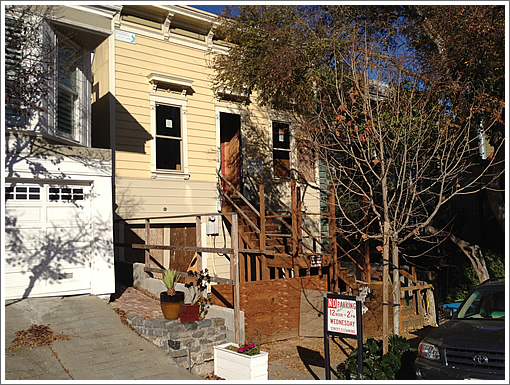 Seeking an "open aesthetic," the buyer of 3066 Market Street, a speculative project which had been stalled mid-construction and ended up selling on the courthouse steps earlier this year, was planning to chop down the 75-foot-tall redwood tree in the backyard.
Sponsored by Supervisor Wiener and recommended by San Francisco's Land Use and Economic Development Committee, the Sequoiadendron giganteum at 3066 Market Street has been nominated for Landmark Tree status. Yes, that's a real thing.
If approved by San Francisco's Board of Supervisors next week, the tree will likely have to be trimmed and maintained rather than removed as planned. The best line from San Francisco's Landmark Tree Program Criteria and Procedures which were adopted in 2006:
"Whereas, Older mature trees with historic, cultural, economic, or visual significance to a municipality can be designated as "landmark" trees; which is not to say that younger tress are insignificant or may not be designated as a landmark tree in the future…"
While not historic, the 3066 Market Street redwood has been described as "majestic and unique for the area," provides a wind and sound barrier from Market Street for the neighbors, and "reflects the aesthetic of the homes of the area" (other than the one it's behind).