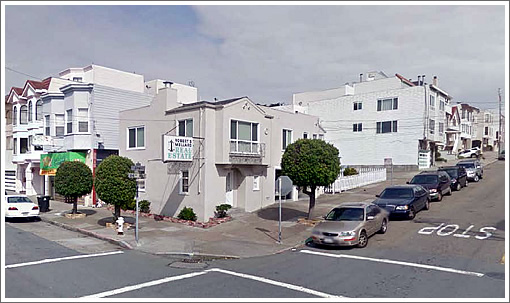 As proposed, the little two-story building with two small dwelling units and a bit of commercial space on the northwest corner of Clement Street and 26th Avenue will be razed, the parcel will be divided, and two four-story buildings will rise on the site.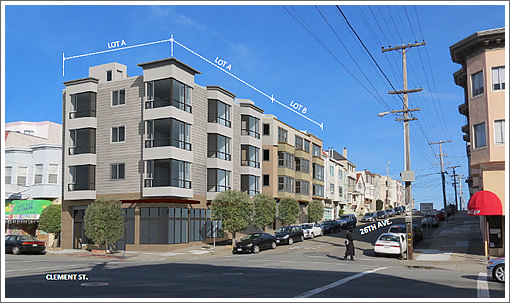 The proposed buildings include a 45-foot-tall building fronting Clement Street with three dwelling units and four parking spaces over a ground floor commercial space and a 40-foot building fronting 26th Avenue with another three dwelling units and parking spaces.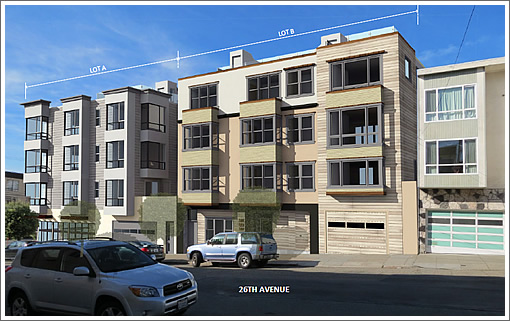 While San Francisco's Planning Department recommends the development be approved as proposed, a neighbor vehemently disagrees and demands the application for "such a monstrous design constructed for nothing more than profit" be aborted.
From the "beyond appalled" neighbor to the planner overseeing the project:
"I am writing in regards to the above cited address and application. I am beyond appalled that this Building Department would even consider entertaining such a monstrous design constructed for nothing more than profit without consideration for the pre-existing dwellings and families surrounding it. The individual who has submitted this permit has one goal in mind – to reap the greatest amount of personal benefit from this lot without regard for those who have resided next to it for decades.
As the immediate neighbor at 2510 Clement Street, a Four Story Building on my Eastern side would literally knock my lights out. With three stories towering above my one story home – I would NEVER SEE THE LIGHT OF DAY. It would not only take away my natural light and place an end to my gardening but cut off my air flow. The size and structure of the building would also tower and overshadow 2512, 2514 as well as 2518 Clement Street which are all TWO story buildings, as is the neighboring building on 26th Avenue. These buildings are homes of long time residents of San Francisco, some with children and others are senior citizens. We deserve respect and consideration.
From the start, Ms. Mary Tom, has vehemently refused to work with the adjacent property owners in designing a building that would be financially beneficial to her as well as respectful to those of us around her. She has gone so far as to up the initial plans for two three story buildings and added an additional fourth story to her permit. There are no words to describe my disgust at this vulgar lack of consideration.. I demand this permit be aborted.
I will be looking forward to hearing from you."
San Francisco's Planning Commission is slated to review the application tomorrow afternoon.
UPDATE: Another perspective on the project site which might shine some light on the situation and help explain the neighbor's ire: