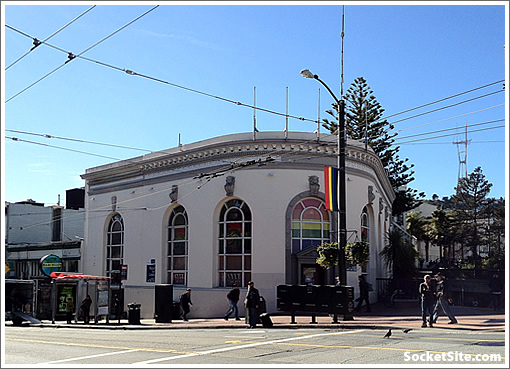 While the rumor mill had been grinding away, so to speak, as we first reported last week, the group doing business as RR-SF, Inc. (a.k.a. Randy Rooster) would be presenting their plans for the old Bank of America building at 400 Castro Street (a.k.a. the former Diesel store) to the Merchants of Upper Market & Castro this week.
While we took some heat for lagging behind other reports that a strip club was in the works for the space, in the words of one of the proposed Randy Rooster club's co-owners: "The rumor mill has already started, so we are here to clear up the air."
And in the words of the Bay Area Reporter with respect to RR-SF's plans for 400 Castro:
"It will be an upscale restaurant and nightclub," said co-owner Stephen Jones. "We want to bring a gay gentlemen's club to the Castro."
Jones later added that the entertainment would be in an "upscale burlesque style" that caters to the tastes of gay men. He likened it to the Crazy Horse in Paris, which opened in 1951 and bills itself as an "avant-garde cabaret," and the gay nightclub The Abbey in West Hollywood.
While the famous Parisian nightspot features half-naked female performers, the San Francisco venue will not involve nudity, said Jones, adding that the business will be run with "dignity, honor and respect."
RR-SF is reportedly in contract to buy the 400 Castro Street building for $7.7 million with another $6 million budgeted for the build-out of the Randy Rooster with hopes that it will become the flagship location for a chain of clubs.
∙ Presenting The Real Plan For Raging On Castro Street [SocketSite]
∙ Gay burlesque venue proposed for the Castro [ebar.com]