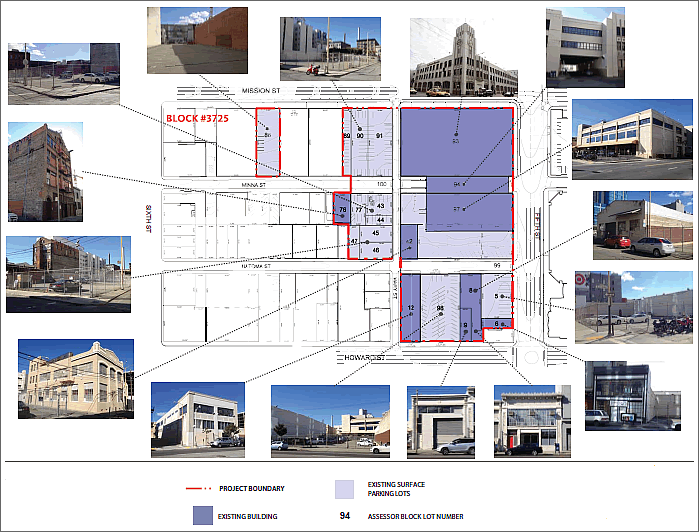 Forest City's proposed 5M Project spans a 4-acre site roughly bounded by Mission, Fifth, Howard and Mary Streets at the nexus of San Francisco's South of Market Area (SOMA). The 5M project includes over a million square feet of office space, 750 new dwelling units, and 150,000 square feet of ground floor retail, educational, and cultural uses with five new buildings ranging in height from 50 to 400 feet: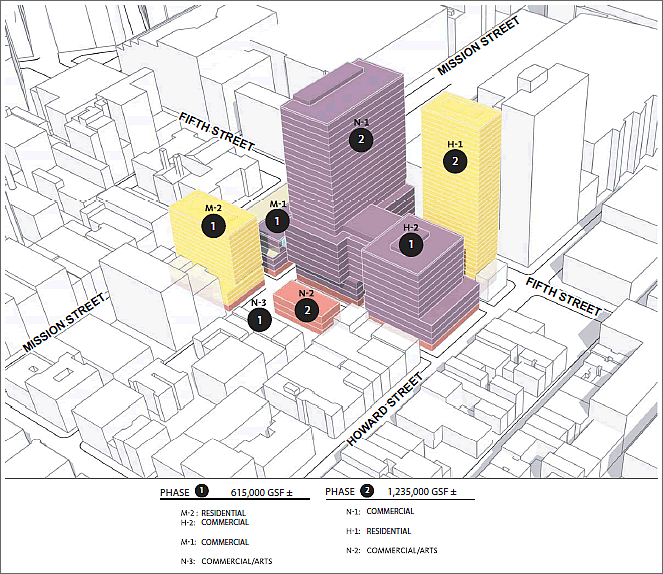 As part of the project, the Chronicle Building at 901 Mission Street and the Dempster Printing Building at 447-449 Minna Street would both be rehabilitated while six other buildings on the site would be razed to make room for the new construction.
The square footage of renovated space and new construction would total 1.85 million square feet. In addition, the project would include up to 888 parking spaces for cars in three subterranean levels, around 270 spaces for bikes, and 34,000 square feet of privately-owned publicly accessible open space including 22,000 square feet atop the Chronicle building which would be accessible to the public during business hours and to tenants and residents between 8:00 a.m. and 10:00 p.m.
Seven existing surface parking lots on the site with a total of approximately 256 parking spaces would meet their demise. And Mary Street between Mission and Minna Streets would be closed to vehicular traffic and converted to a pedestrian alleyway.
Public planning meetings for the project are slated to start in two weeks. Assuming all approvals by the end of next year, construction could commence as early as 2015 and be finished by 2026 with the project constructed in two phases (see massing above).