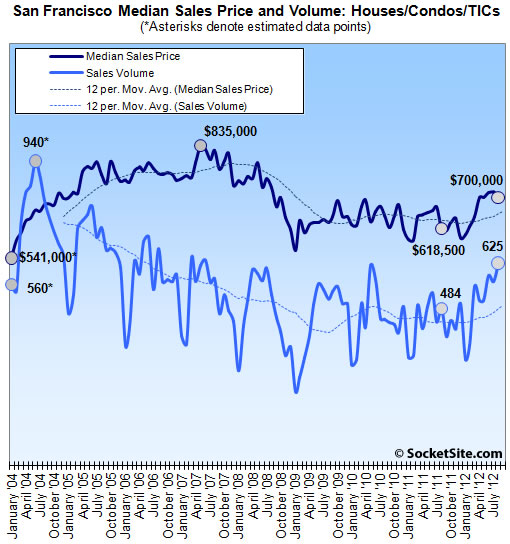 The recorded sales volume of homes in San Francisco rose 29.1% on a year-over-year basis last month (625 recorded sales in August 2012 versus 484 sales in August 2011), up 10.3% as compared to the month prior, the highest August sales volume since 2006 (669 sales). An average of 600 homes have sold each August in San Francisco since 2004 when sales volume peaked at 814.
San Francisco's median sales price in August was $700,000, up 13.2% on a year-over-year basis, down 2.0% as compared to July.
For the greater Bay Area, recorded sales volume in August was up 14.2% on a year-over-year basis, up 1.4% from the month prior (8,579 recorded sales in August '12 versus 7,513 in August '11 and 8,461 in July '12) on a recorded median sales price which was up 10.8% year-over-year, down 2.6% month-over-month.
Last month 40.2 percent of Bay Area sales were for $500,000 or more, down from a revised 42.0 percent in July, and up from 35.9 percent in August 2011. The low for the current cycle was January 2009, when just 22.7 percent of sales crossed the $500,000 threshold. Over the past 10 years, a monthly average of 48.0 percent of homes sold for $500,000-plus.
Last month distressed property sales – the combination of foreclosure resales and "short sales" – made up about 33.8 percent of the Bay Area's resale market. That was down from 34.0 percent in July and down from 43.8 percent a year ago.
At the extremes, Napa recorded a 32.2% increase in sales volume (a gain of 39 sales) with a 9.4% increase in median sales price while Contra Costa recorded a 4.6% increased in sales (a gain of 73 sales) with a 15.2% increase in median sales price. The median sales price increased 2.3% in Marin while sales volume increased 29.2%.
As always, keep in mind that DataQuick reports recorded sales which not only includes activity in new developments, but contracts that were signed ("sold") many months or even years prior and are just now closing escrow (or being recorded).
∙ Bay Area August Home Sales Highest Since 2006 [DQNews]
∙ Recorded San Francisco Sales Up 27.7% In July (Year-Over-Year) [SocketSite]