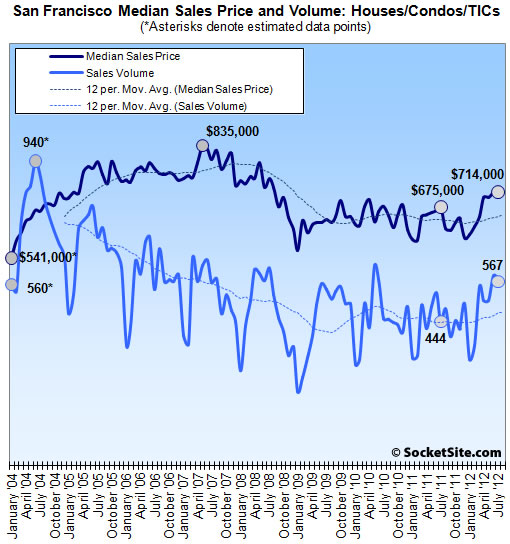 Recorded home sales volume in San Francisco rose 27.7% on a year-over-year basis last month (567 recorded sales in July 2012 versus 444 sales in July 2011), down 3.2% as compared to the month prior but versus an average June to July decrease of 10.6% over the past seven years. An average of 594 San Francisco homes have sold in July since 2004 when recorded sales volume hit 893.
San Francisco's median sales price in July was $714,000, up 5.8% on a year-over-year basis, up 0.1% as compared to June in which the median was up 7.3% year-over-year.
For the greater Bay Area, recorded sales volume in July was up 22.9% on a year-over-year basis, down 1.4% from the month prior (8,461 recorded sales in July '12 versus 6,887 in July '11 and 8,577 in June '12) on a recorded median sales price which was up 12.6% year-over-year, up 1.0% month-over-month.
It appears that roughly half of the 12.6 percent year-over-year gain in July's median sale price can be attributed to a shift in market mix, where the overall regional median is tugged up by a higher share of sales occurring in the mid-to-upper price ranges. In July, price levels for the lowest-cost third of the Bay Area's housing stock rose 9.6 percent year-over-year, while they rose 7.8 percent in the middle and increased 1.2 percent in the top third of the market.
Jumbo loans, mortgages above the old conforming limit of $417,000, accounted for 38.5 percent of last month's purchase lending, the highest since 38.6 percent in December 2007. It was up from a revised 38.4 percent in June, and up from 33.4 percent a year ago. Jumbo usage dropped to 17.1 percent in January 2009. Before the credit crunch struck in August 2007, jumbos accounted for nearly 60 percent of the Bay Area purchase loan market.
The typical monthly mortgage payment that Bay Area buyers committed themselves to paying last month was $1,522, down from $1,532 in June, and down from $1,525 a year ago. Adjusted for inflation, last month's payment was 45.6 percent below the typical payment in spring 1989, the peak of the prior real estate cycle. It was 59.8 percent below the current cycle's peak in July 2007.
At the extremes, Marin recorded a 45.7% increase in sales volume (a gain of 106 transactions) with a 3.9% increase in median sales price while Solano recorded a 1.0% increase in sales volume (a gain of 6 transactions) with a 1.3% increase in median price. The median sales price was up 32.6% in Napa with 30 more sales, an increase of 28.6%.
As always, keep in mind that DataQuick reports recorded sales which not only includes activity in new developments, but contracts that were signed ("sold") many months or even years prior and are just now closing escrow (or being recorded).
∙ Bay Area Home Sales and Prices Continue Upward Trend [DQNews]
∙ Recorded San Francisco Sales Up 9.9% In June (Year-Over-Year) [SocketSite]
∙ San Francisco Recorded Sales Activity Down 1.8% In July [SocketSite]