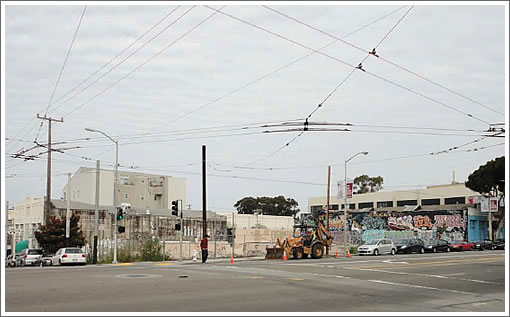 The four-story live/work building on the northwest corner of Potrero Avenue and Mariposa Street was demolished in 2005 and the lot at 480 Potrero has sat undeveloped since.
Plans for an assisted living senior center to rise on the site have been ditched. Now making its way through planning, a proposed six-story building of 89,600 square feet with 84 condos (26 one-bedrooms and 58 two's) over commercial on the ground floor: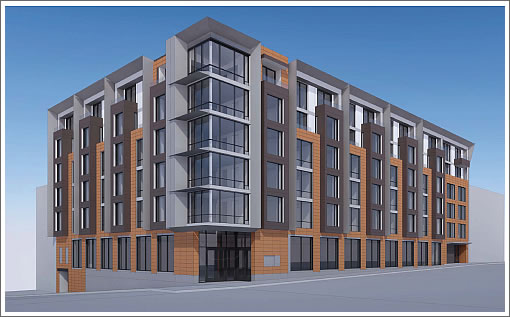 In addition to parking for 33 bikes, 38 parking spaces for cars would be built in a basement garage. From the project sponsor:
While the proposed project would not be required to provide off-street parking spaces pursuant to Planning Code Section 843.08, the project includes 38 parking spaces in an underground garage, consistent with the allowable 0.75 to 1 ratio under the Planning Code.
Based on the methodology presented in the SF Guidelines, on an average weekday, the demand for parking would be 116 spaces. Thus, the project would have an unmet parking demand of 78 spaces.
Additionally, the project site is located on a transit corridor and in a relatively dense area well-served by a mix of uses. As such, it is expected that many of the residents would be encouraged not to make their trips by car.
The propsoed 480 Potrero project will require the Planning Commission's approval for the construction of a building larger than 25,000 square feet. Assuming approval, the developer is estimating an aggressive construction time of 12 months.
UPDATE: As a plugged-in reader reports, the plans for 13,000 square feet of commercial space on the ground floor of the building have been scrapped. The unit count above (84) actually reflects this revision but the design has been tweaked: