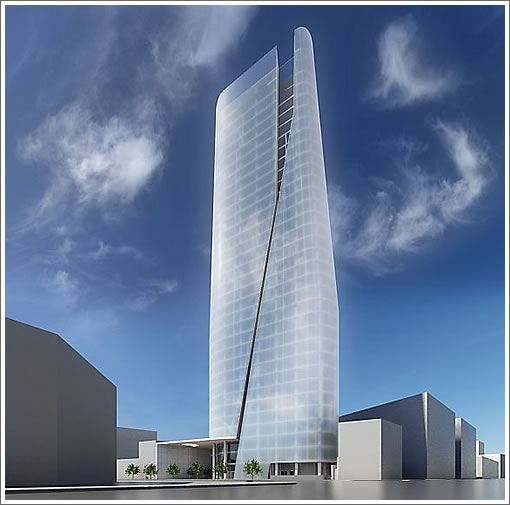 From John King with respect to the Richard Meier & Partners designed 34-story residential tower that's on the boards to rise near the corner of Market and Van Ness, possibly replacing the squat building in which the All Star Café currently resides:
What's unusual here is the proposed tower's un-Meier surface and shape: a tall tapered cone wrapped in what now is mullion-free glass, broken only by two slits from base to sky that would emphasize the sleek height and make the glass "appear veil-like," Meier said in a phone interview. His signature white-metal panels would appear only at the base. There, glass gives way to three stories that are unmistakably modern, yet in scale with the best nearby buildings.

According to Meier, the soft slender form is a response to the triangular site wedged between Market and Oak streets. "It's a rare opportunity to have a building relaxed, but open on all sides," he said. "There's really space around it."
Tentatively dubbed "One Van Ness," King hints that the proposed 400-foot building should start weaving its way through Planning and the public by the end of the year.