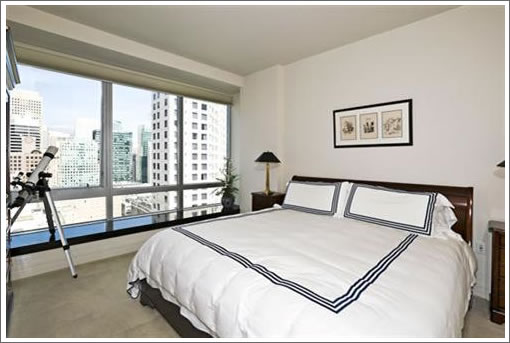 With no reported or recorded purchase price we could find, the tax assessed value of $1,204,542 for The Four Seasons (765 Market) #27B would suggest a lowest possible original purchase price of just over a million dollars assuming a purchase from the developer in 2001 and maximum yearly reassessments.
Listed for sale at $1,695,000 this past March, the price was reduced to $1,595,000 in April, to $1,395,000 in June, to $1,325,000 in July, to $1,250,000 in September, and to $999,000 the day before yesterday.
That being said, we can't call it year 2001 pricing for this Four Seasons condo, for as a plugged-in tipster notes, "Apartment is being sold furnished with classically designed furniture and lighting. Eclectic art collection included."
And as at least one voice is sure to shout out, it's still $995 per square foot! But that would be eight years without any effective appreciation and a rather significant fall from peak.