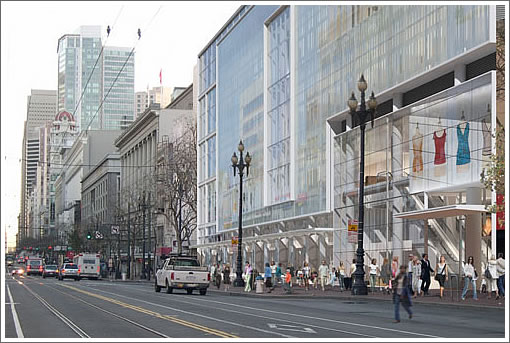 From the CityPlace website:
Located in the Mid-Market neighborhood between 5th and 6th Streets, this exciting new development will continue the enhancement of San Francisco's primary retail corridor. The proposed project will stretch from 935-965 Market Street and bring approximately 250,000 square feet of new value-based retail to the neighborhood….If City approvals are secured in a timely fashion, construction on the project can begin in July 2009 and will be completed in July 2011.

In addition to the public-serving improvements that are directly related to CityPlace, the project development team is committing to making further enhancements to the area, focusing on Stevenson Street in particular….The plan for Stevenson includes landscaping and design elements, as well as the creation of three small retail spaces for micro-vendors – small, local entities with a need for a storefront to get their business off the ground.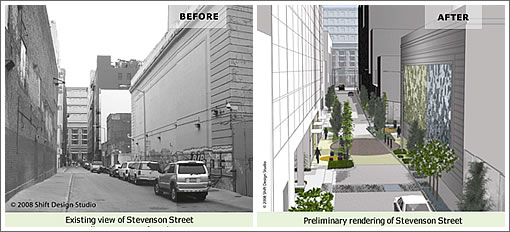 From the Examiner: "David Rhoades of developer Urban Realty Co. said the project will be filled with several large "value-based" retailers, along the lines of Ross and Marshalls." Luckily no mention of a Mervyns.
And from an earlier overview of the project: "If City approvals are secured in a timely fashion, construction on the project can begin in mid-2008 and will be completed in mid-2010″…