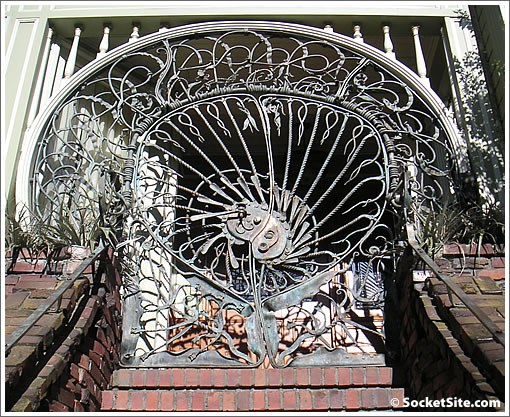 No real story (and it's not for sale), we simply loved the craftsmanship and style of the gate (731 Buena Vista Avenue). And it somehow seems ever so San Francisco.
UPDATE (5/5): From one plugged-in reader: "[T]hat once was bobby mcferrin's house — perhaps it is he who came up with the dough for such a fabulous custom gate." And from another: "Any info on who built the gate (artist/craftsman)?" Readers?
UPDATE (5/5): Still no word on the artist, but some additional detail on the original patron of the gates: "Yes, that is Graham Nash's place (long time ago) and i believe it was he who commissioned the gates….After McFarrin moved in he had the gates refurbished. They were taken down and sent somewhere…the neighborhood assumed he removed them and there was a mini uproar."
UPDATE (10/8/09): From Graham Nash: "Those beautiful gates were commissioned by me in the early '70's. The man who built them for us was named E.A.Chase." Cheers!