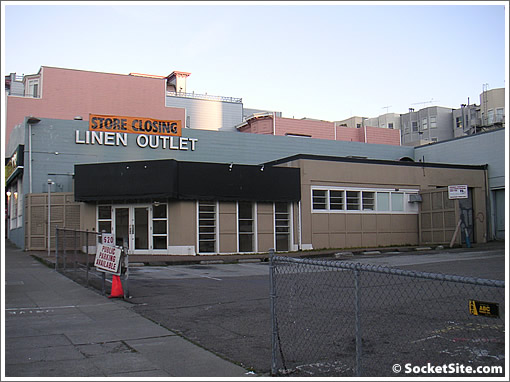 A reader asks and we don't have a clue (hey, it happens):
I live in Russian Hill and noticed that the corner of Pacific and Polk there is a small parking lot, frame-o-rama (which is moving), a temporary space that Linen Outlet has been using (the old jug shop sore), and an empty small building (old Little Bug store). In the last year, all three of those places have announced they are moving or have already shut. The jug shop moved across the street, the Frame-o-rama store is moving up a few buildings on Pacific, Little Bug business closed and is empty, and the temporary Linen store has been had a "closing sale" for a while.
Anyway, all of this just has development written all over it.
Didn't know if you knew anything about it. I know there is a ton going on in SoMa [Editor's Note: And along Van Ness], but when a lot this size appears to have something going on in a small neighborhood, it makes me wonder. Just didn't know where to start to find out what is up. Makes me nervous that something bad and horrible is gonna happen on that corner.
Any plugged-in readers have the inside scoop (or care to pass this along to somebody who might) in order to assuage (or amplify) our reader's intial nervousness?
UPDATE: Okay, it's kind of frightening how quickly this one got answered. One reader points us in the direction of the Pacific Terrace website which quotes six-stories, 38 condominiums, 2,900 sq. ft. of ground floor retail, and 38 parking spaces; while another emails us directly (for the record, two minutes earlier) with slightly different totals (43 units and 45 parking spaces including 29 car lifts). The drawings: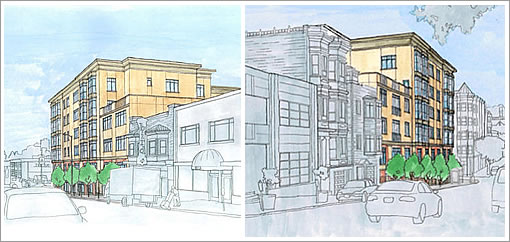 Not that there was ever any doubt (at least not on our part), but you guys (in a non gender specific kind of way) are the best. Thank you for plugging in.
∙ JustQuotes: A Reminder That They're Not Just Building Down In SoMa [SocketSite]