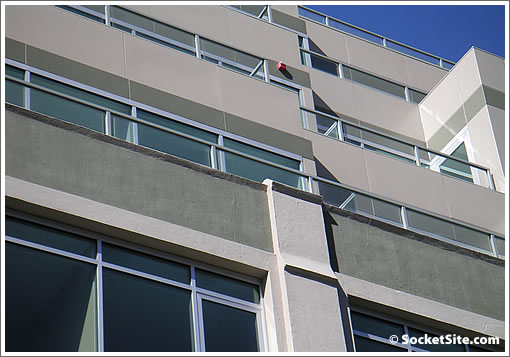 According to the Barbary Coast News 46 of the 69 condominiums at 733 Front Street are now in escrow. And according to the sales office four (4) two-bedrooms remain. If so, that would suggest only one (1) new two-bedroom sale (but ~23 junior/one-bedroom sales) over the past four months.
Also according to the Barbary Coast News, buyers have been on the younger side, the majority plan to owner occupy, and at least one has combined two (penthouse) units into one. At the same time, we can't help but notice that asking prices on at least three of the remaining smaller condos have been reduced by up to $45,000 (7.4%). 733 Front #210 is currently available for $585,000 and #306 for $570,000 (four months ago they were asking $625,000 and $615,000).
And it was three months ago that 733 Front #206 was being offered at $605,000 (today they're asking $560,000).