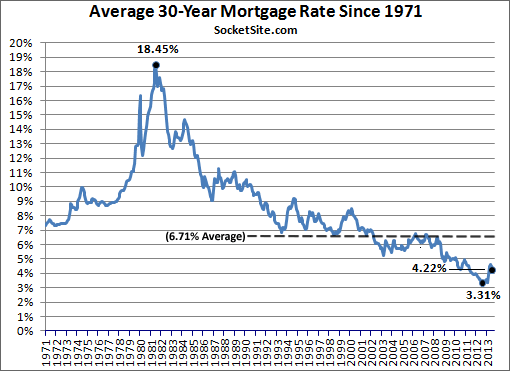 The average rate for a conforming 30-year mortgage ticked down to 4.22 percent over the past week, 36 basis points lower than the two-year high of 4.58 percent measured in August. Absent any big negative economic news, the Fed's talk of tapering its bond purchase program will likely cause mortgage rates to tick back up despite the Fed's concerns and intentions.
The average 30-year fixed mortgage rate was 3.31 percent at this time last year, the all-time recorded low, having averaged 6.71 percent since 1990 and 8.61 percent over the past 40 years.
In terms of the 30-year rate for Jumbo loans over $625,500, Wells Fargo is currently advertising a rate of 4.125 percent, a discount of .375 points as compared to the 4.50 percent rate they're advertising for both regular conforming and super conforming loans over $417,000 in high cost areas like San Francisco.