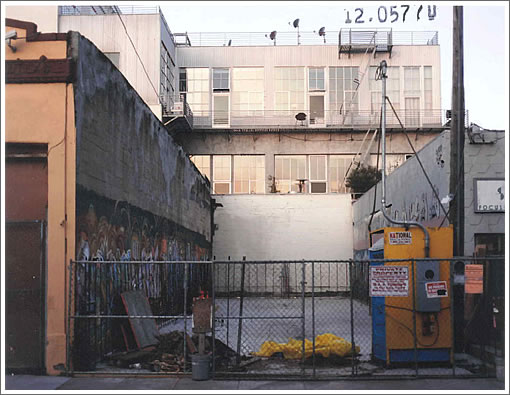 While the proposed development of a two-story automobile repair garage at 246 Dore Street wouldn't affect the views of the foreclosed upon Stagehouse Lofts developer's unit which sold for $897,500 earlier this year, it will affect the views of Stagehouse Lofts #301, the owner of which has requested a Discretionary Review and redesign of the project.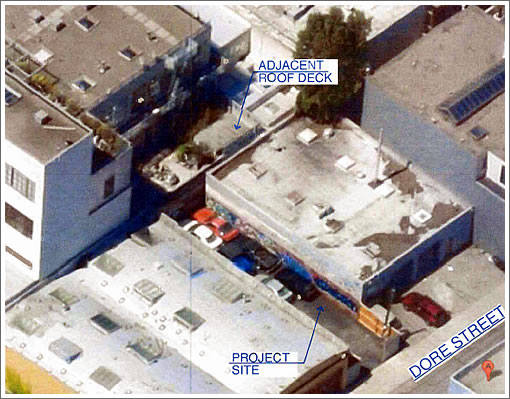 From the objector:
The Stagehouse has 18 units that are occupied. Four of the units are on the second floor and open on to the deck. The deck provides the only open space and outdoor recreation area available to these four units. The deck is a significant quality of life amenity and a play area for small children that live in the building from time to time. Another four units on the third floor enjoy the view and the spaciousness of deck. The view to the northeast also provides most of the daylight available to the four second floor units that will be impacted by the project most directly.
The project as applied for will create a massive wall that will block the view and a significant portion of the light available to the four second floor units. Presently, the deck is enclosed by a parapet that is about three feet high as measured from the floor of the deck…The Appellant believes that the wall of the project will extend approximately another seven feet above the top of the parapet. The effect will be to "box in" the deck and cast a dark shadow over what is now an airy and bright open space. It will create a claustrophobic non-space.
Appellant estimates that each of the four second floor units will each suffer a decrease in fair market value from between $100,000 to $150,000 as the result of the loss or impairment of the present view, the diminution of available daylight, the diminution of use value of the deck, the general degradation of the aesthetic properties of the building and the decrease of the desirability of the building as an office and work area.
The development of 246 Dore Street was previously approved having been unopposed in 2007, but the permit to build expired. The Planning Department recommends the Planning Commission once again approve the project as proposed.
∙ Behind The Scenes At Stagehouse Lofts (465 10th Street) [SocketSite]
∙ And…Scene! As The Developer's Unit At Stagehouse Lofts Sells [SocketSite]
∙ 246 Dore Street Discretionary Review Packet [sfplanning.org]