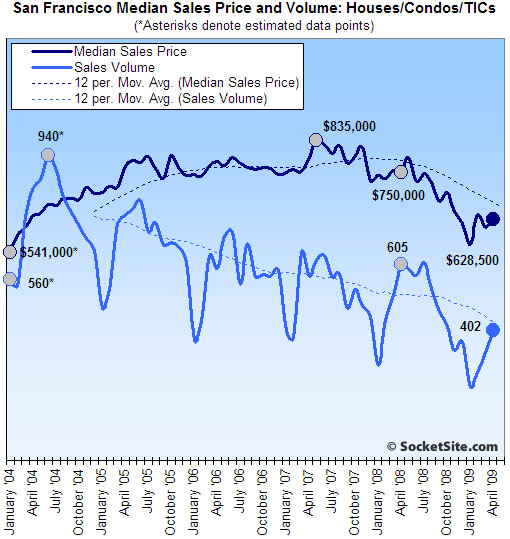 According to DataQuick, recorded home sales volume in San Francisco fell 33.6% on a year-over-year basis last month (402 recorded sales in April '09 versus 605 sales in April '08) but rose 21.1% compared to the prior month (which seasonality would foretell).
San Francisco continued to experience the sharpest year-over-year decline in sales volume of any Bay Area county in April with San Mateo (-22.5%) and Marin (-19.4%) the only other counties recording declines. San Francisco's median sales price in April was $628,500, down 16.2% compared to April '08 ($750,000) but up 3.4% compared to the month prior.
For the greater Bay Area, recorded sales volume in April was up 13.1% on a year-over-year basis (a sharp decline from the 32.6% average YOY gain of the past seven months) and up 12.9% from the month prior (7,139 recorded sales in April '09 versus 6,310 in April '08 and 6,325 in March '09), while the recorded median sales price fell 41.3% on a year-over-year basis, up 4.8% compared to the month prior (the first uptick in 17 months).
Last month's sales were the second-lowest for an April since 1995 and were 23.2 percent below the average April sales total back to 1988, when DataQuick's statistics begin.
Foreclosure resales – homes sold in April that had been foreclosed on in the prior 12 months – accounted for 47.4 percent of Bay Area resales. That was down from 50.2 percent in March and 52.0 percent in February. Last month's figure was the lowest since foreclosure resales were 46.8 percent of existing home sales last November.
A lower concentration of discounted foreclosure resales in the statistics is one reason the median sale price has recently begun to more or less flatten, or at least erode more slowly, in many markets.
At the extreme, Solano recorded a 67.1% year-over-year increase in sales volume (a gain of 288 transactions) on a 43.7% drop in median sales price.
As always, keep in mind that DataQuick reports recorded sales which not only includes activity in new developments, but contracts that were signed ("sold") many months or even years prior and are just now closing escrow (or being recorded).
∙ Bay Area home sales rise again; median price up slightly over March [DQnews]
∙ San Francisco Recorded Sales Activity In March: Down 34.6% YOY [SocketSite]
∙ SocketSite Sees Seasonality (Versus Signs Of A Rebound) [SocketSite]