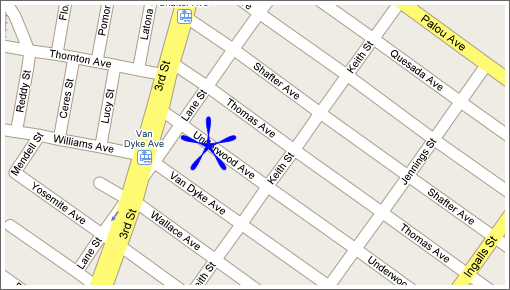 Purchased for $825,000 in September of 2006, it appears that the bank bought 1570 Underwood Avenue for $697,471 in August of 2007. And while the home was back on the market for two weeks at $779,700, the list price has now been cut to $445,000 (plus "the bank will credit $10,000 towards closing costs and [pay] a $3,000 bonus to [the] selling agent").
And while it's entirely possible that this was simply a sale to someone who couldn't actually afford the payments in the first place, what happens to those who can afford their payments and relied on this sale as a friendly neighborhood "comp" not too long ago?
UPDATE: And the inside scoop from the plugged-in Realtor:
Yes it sold for $825,000 in September 2006. 100% financing. Had other inflated comps at the time to support the appraisal. Buyers probably could not afford it and were put into a loan product that was too good to be true. It went into foreclosure, the lender for the 2nd lost everything, the 1st lender took back the property for the value of their original loan plus legal costs and lost interest..and property taxes that will be collected through escrow on the sale. I saw the house and actually live about 5 blocks away. It is beaten up and shows very poorly. The bank needs to dump it to get the nonperforming asset off of its books. Thus the $435K asking price. My guess is that it will sell for around $400,000. But as a long-term buy and hold, it is THE time to buy. Things will come around, part of the economic cycles. But it very well could go lower in the shorter term. Impossible to time the bottom of any market.
[UPDATE (2/26): 1570 Underwood Avenue closed escrow on 2/22/08 with a reported contract price of $445,000 (not including the $10,000 credit towards closing costs).
∙ Listing: 1570 Underwood Avenue (3/2) – $445,000 [MLS]