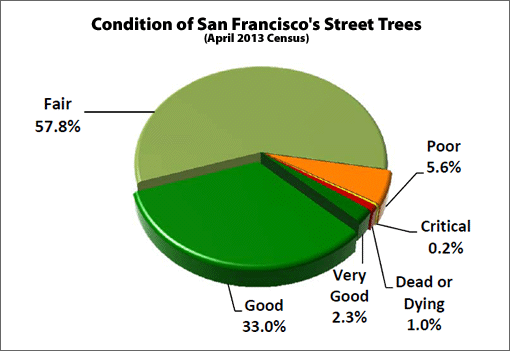 Once a largely treeless landscape of grassy hills and sand dunes, there are now an estimated 670,000 trees growing in the "Urban Forest" of San Francisco with an estimated 105,000 street trees located in the public right-of-way.
In collaboration with the Department of Public Works and Friends of the Urban Forest, San Francisco's Planning Department is now working on a plan to promote San Francisco's Urban Forest with a primary focus on managing and growing the city's street tree population, a population which could grow by upwards of 50,000 new trees over the next 20 years.
In conjunction with the Urban Forest Plan, a Municipal Street Tree Program under which the Department of Public Works (DPW) would assume the responsibility for the planting and maintenance of all street trees in San Francisco is also being considered.
Under a comprehensive municipal street tree program, property owners who currently care for street trees would no longer be required to maintain trees or repair sidewalks damaged as a result of a street tree. In addition, the City would cover the liability associated with tree-related sidewalk falls, which have averaged just over $23,000 per claim over the past eight years.

A municipal program would save property owners between $10 and $65 per tree annually compared to current costs (estimated at between $160 and $175 annually) incurred for maintenance, sidewalk repair and claims associated with sidewalk falls.
Funding to execute the Urban Forest Plan would likely come by way of General Obligation bonds, state grants, capital improvement funds or contributions while a parcel tax tiered by street frontage has been recommended for funding the municipal street tree program.
The first draft of San Francisco's Urban Forest Plan will be published next month.