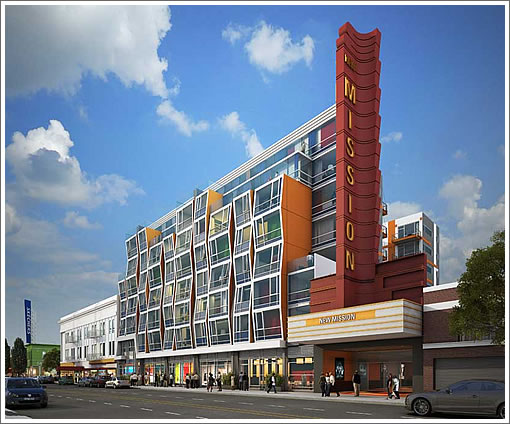 Plugged-in people have long known about the plans to renovate the New Mission Theater and develop the adjacent lot at 2558 Mission Street, upon which the Giant Value building currently stands. And now, the latest scoop for the modern Kwan Henmi designed eight-story building that's proposed to rise on the project site, clad in metal, glass, and plaster with multi-colored panels and alternating inward and outward-angled windows: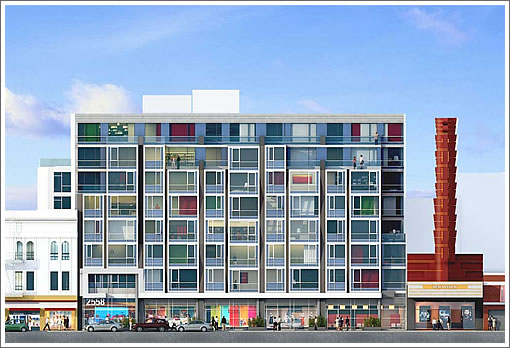 As proposed, the 2558 Mission Street building will be approximately 85 feet tall (measured from Mission Street with a 15 foot setback for the eight floor) with 114 residential units above 14,750 square feet of ground-floor commercial space and 89 parking spaces in a below-grade garage with its entrance on Bartlett.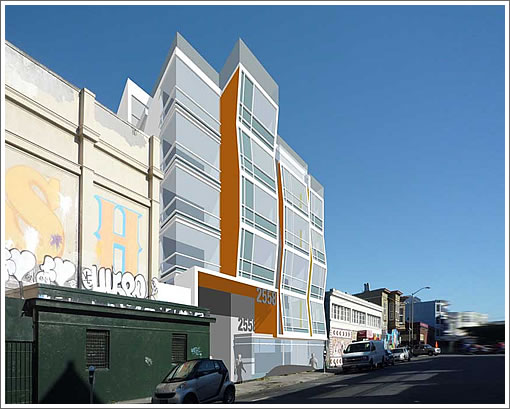 The ground floor would contain retail or restaurant uses, a mail area, a management office, building utilities, and two residential lobbies. The main lobby would be at the Bartlett Street entrance and a secondary lobby would be at the Mission Street entrance. The retail/restaurant space could house one large or up to three smaller tenants.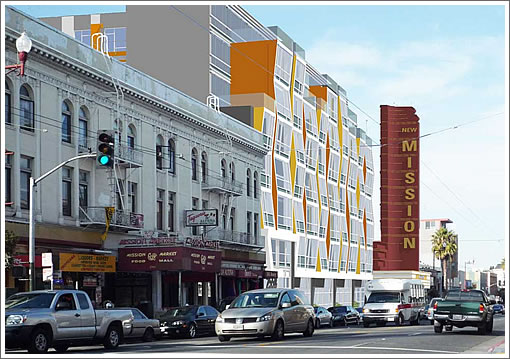 The residential units were designed to range in size from 520 square feet for the junior one-bedrooms to 1,400 square feet for the two-bedrooms. All 114 units (18 junior one-bedrooms, 45 one-bedrooms and 51 two-bedrooms) are planned to be offered for sale at market-rates. The city's inclusionary housing requirement would be fulfilled by building below market rate (BMR) units on a separate parcel at 1296 Shotwell Street.
Of the eighty-nine parking spaces, eighty-six would be for the 114 residential units, a ratio of 0.75 spaces per unit. One parking space would be a car-share space and two parking spaces would be for the retail component. All parking spaces except for the car-share and handicapped-accessible spaces would be provided in two-level mechanical lifts. Parking for 41 bicycles would also be provided in separate, secure room in the garage.
Currently working its way through planning, once approved, the construction of the 2558 Mission Street building would take approximately 18 to 20 months versus 10 to 12 months for the renovation of the New Mission Theater.
Keep in mind that the Mission Anti-Displacement Coalition and a few others have long opposed the development of any market rate housing in the area.
As always, we'll keep you posted and plugged-in.
∙ New Mission Theater Plans Moving Forward, Targeting 2013 Opening [SocketSite]
∙ Giant Value Housing Or Headache To Come In The Mission? [SocketSite]