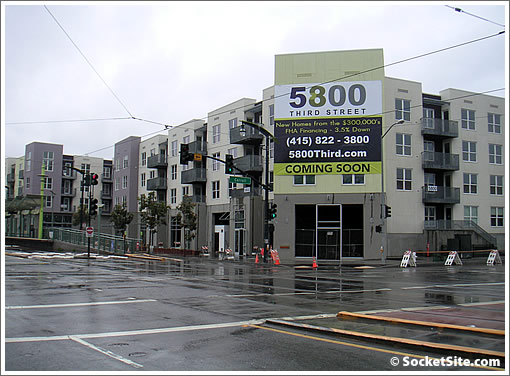 The four building Bayview development at 5800 Third Street was first approved by Planning 2005. Following a false start in 2007, the first two buildings with 137 of the proposed 340 units were delivered in 2010 along with San Francisco's second Fresh & Easy store.
Phase Two of the development is now preparing to rise behind buildings one and two: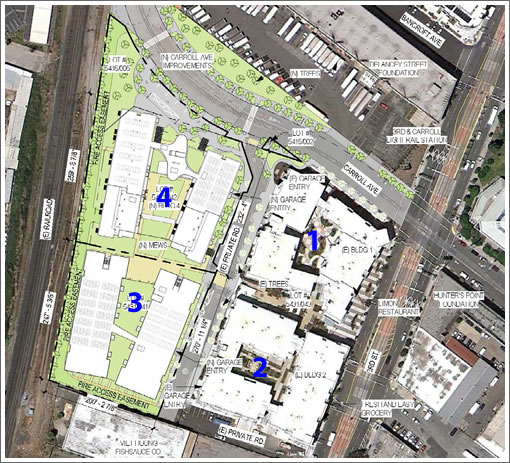 Approved for 60-foot heights, 219 parking spaces, and 203 units, the developers are seeking an amendment to allow the final two buildings reach 65 feet, decrease parking to 183 spaces, and increase the number of Phase Two units to 271 by eliminating all 71 of the three-bedrooms while increasing the number of studios and one-bedrooms by 146.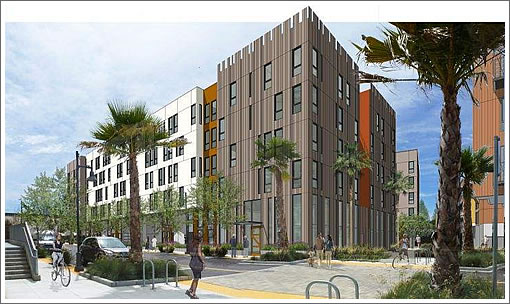 The total number of unrestricted market-rate units in Building Three would increase by 62 to 150 with 129 parking spaces, up by 29 parking space as originally approved.

While originally approved for 115 regular market-rate units (a mix of one, two and three-bedroom units), Building Four is now proposed as 121 units of senior housing (117 of which would be one-bedrooms) with 65 fewer parking spaces attached.