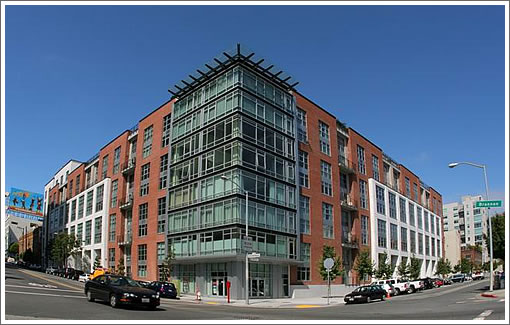 As we reported with respect to a polished South Beach apple back in February:
Listed for $1,288,000 in January 2011, the 2,097 square foot #320 at 200 Brannan sold for $1,260,000 last April. Back on the market ten months later and listed for $1,450,000.
With new hardwood floors in place, it's not perfectly apples-to-apples, but we'll call it close enough. And if you think you know South Beach, now's the time to tell.
In the words of a plugged-in LegacyDude on the record at the time:
I think I know South Beach. And I know this building, although I've not seen this particular unit. If it's the floor plan I'm thinking of, it's really more suitable for a couple, as the layout would not work well for roommates despite being a 2/2. So not a great rental.
That said, dumb tech money is back in Soma, so I don't think the ask is outside the realm of possibility. I don't follow 200 Brannan that closely, but looks like recent sales have averaged ~$700 psf. Assuming this unit has no critical flaws that are hidden in the pictures, and the square footage is accurate, it could go for/close to asking. I'll guess $1.35 to hedge myself.
No need to hedge, Dude, the sale of 200 Brannan Street #320 closed escrow today with a reported contract price of $1,450,000, up 15 percent ($190,000) year-over-year.
∙ South Beach Apples-To-Apples And Year-Over-Year [SocketSite]