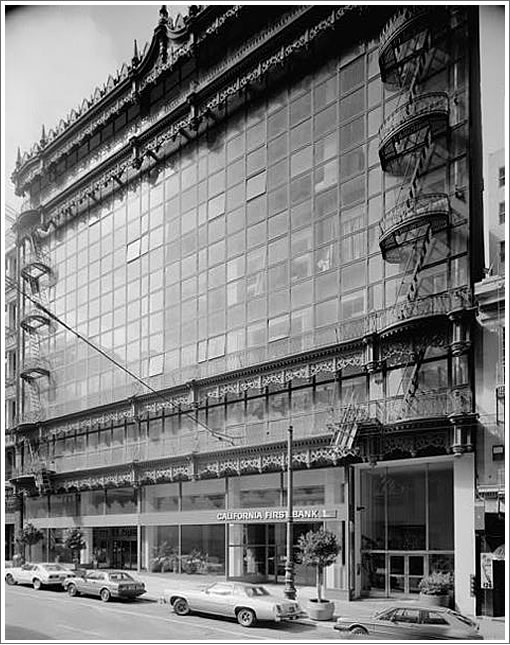 As we first reported in 2010, a structural observation of the Willis Polk designed Hallidie Building at 130 Sutter Street determined it was "just a matter of time before portions of the façade supported by [deteriorating steel brackets] will fall off of the building."


A plan to rehabilitate the façade of the Hallidie Building and prevent its character-defining curtain wall from falling was approved eight months later, which includes a repainting.
While previous analysis and historic accounts had identified the original colors of the building to be Cal Blue and Gold, the Historic Preservation Commission requested additional investigation to determine the original scheme.
While the investigation determined that all decorative metals and balconies were originally gold leaf and only the curtain wall and ladders were blue, the proposed scheme differs slightly with blue for cornices and at the bottom of the balconies that were originally gold.


The proposed scheme "addresses current tastes and is similar to the scheme that has been associated with the building in recent history." And no, gold leaf will not be used.
∙ Heads-Up Near The Hallidie Building (130 Sutter) [SocketSite]
∙ Hallidie Building Color Investigation Report And Proposal [sfplanning.org]