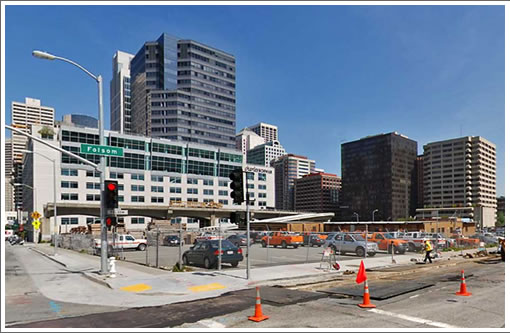 Slated for 450 housing units, 150 of which will be below market rate, four development teams have submitted proposals to build a 300 foot tower, townhouses, and a series of mid-rise buildings on Transbay blocks 6 and 7 between Beale and Fremont on Folsom.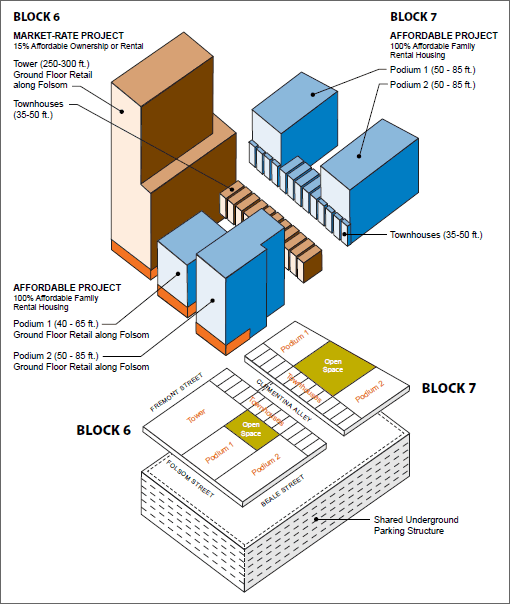 The four competing teams as first reported by JK Dineen:
1. Chicago-based Golub & Company along with affordable housing partner Mercy Housing. The market rate tower of the Golub/Mercy proposal is being designed by One Rincon Hill designer Solomon Cordwell Buenz, with the affordable component designed by Santos Prescott and Associates.
2. Avant Housing (a partnership of AGI Capital and TMG Partners ) with an affordable team of Chinatown Community Development Corp. and Bridge Housing. The lead architect is Skidmore Owings & Merrill with associate architect Fougeron Architecture. Saida + Sullivan Design Partners is the designer of the affordable component.
3. The Related Cos. with the affordable developer Tenderloin Neighborhood Development Corp. Handel Architects designed the market rate tower with David Baker + Partners doing the affordable.
4. Grosvenor Americas with Eden Housing heading up the affordable buildings. The architect of both projects is BAR Architects.
Based on the terms of the redevelopment deal, the winning team will pay $18 million for the land (or $15 million plus upside) with payment "due when the building receives its temporary certificate of occupancy, or December 2016, whichever comes first."
∙ San Francisco Transbay parcel attracts four bidders [Business Times]
∙ Transbay Blocks 6/7: Request for Proposals [sfredevelopment.org]