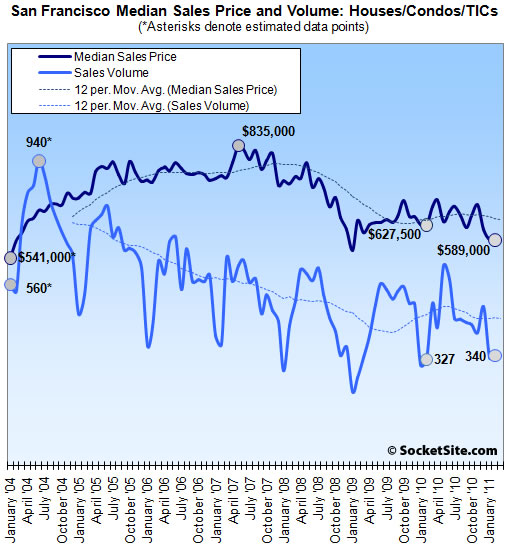 Recorded home sales volume in San Francisco increased 4.0% on a year-over-year basis last month (340 recorded sales in February 2011 versus 327 sales in February 2010), up 2.1% as compared to the month prior which was up 7.1% year-over-year.
For context, February sales figures for San Francisco from 2004 to 2009 were 537 (2004), 526 (2005), 429 (2006), 375 (2007), 431 (2008), and 272 (2009). And on average over the past seven years, sales volume has increased 12.7% from January to February.
San Francisco's median sales price in February was $589,000, down 6.1% compared to February '10 ($627,500) and down a nominal 0.2% compared to the month prior.
For the greater Bay Area, recorded sales volume in February was down 0.9% on a year-over-year basis, up 0.5% from the month prior (4,991 recorded sales in February '11 versus a revised 5,035 in February '10 and 4,966 in January '11) as the recorded median sales price fell 4.7% on a year-over-year basis and a nominal 0.2% month-over-month.
Distressed sales – the combination of sales of foreclosed homes and "short sales" – accounted for just over half of the Bay Area's resale market last month.
Foreclosure resales – homes that had been foreclosed on in the prior 12 months – made up 32.6 percent of the Bay Area's resale market in February. That was down from 35.0 percent in January and 36.3 percent a year ago. Foreclosure resales peaked at 52.0 percent in February 2009. The monthly average for foreclosure resales over the past 15 years is about 9 percent.
Short sales – transactions where the sale price fell short of what was owed on the property – made up an estimated 20.3 percent of Bay Area resales last month, a peak for the current real estate cycle. Last month's short sale figure was up from an estimated 19.7 percent in January, 17.8 percent a year earlier, and 12.6 percent two years ago.
Distressed listings and foreclosure activity in San Francisco continue to climb.
At the extremes, Alameda county recorded a 11.9% drop in sales volume (a loss of 121 transactions) on a 6.4% decline in median sales price while Marin recorded a 15.0% increase in sales volume (23 transactions) on a 19.1% decrease in median price.
As always, keep in mind that DataQuick reports recorded sales which not only includes activity in new developments, but contracts that were signed ("sold") many months or even years prior and are just now closing escrow (or being recorded).
∙ Bay Area Housing Market Stuck In Neutral; Investors, Cash Buyers Active [DQNews]
∙ San Francisco Recorded Sales Activity Up 7.1% YOY In January [SocketSite]
∙ SF Listed Sales Volume Up 1.5% In Feb As Medians Continue To Fall [SocketSite]
∙ San Francisco Listed Housing Inventory Update: March 14, 2011 [SocketSite]
∙ San Francisco Foreclosure Activity Climbs Outside Of District 10 [SocketSite]