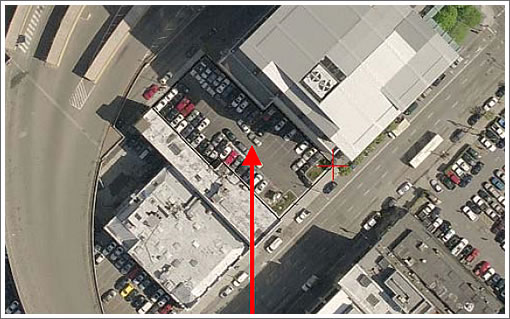 In 1989 San Francisco's Planning Commission first approved the entitlements for a 311-foot tall, 23-story building to be built at 524 Howard Street with 199,965 gross square feet of office space, 4,500 square feet of retail space, 14,000 square feet of off-street parking, and 4,218 square feet of publicly-accessible open space.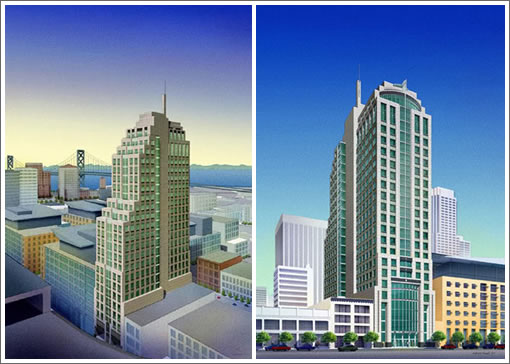 Ten years later the Planning Commission re-authorized a slightly reconfigured building for which the project sponsors never pursued the necessary permits. And in in 2005, the Planning Commission approved a Conditional Use Authorization to operate a temporary surface parking lot on the site, authorization for which expired in 2007.
Since 2007, "the sponsor has not diligently pursued the necessary building permit approvals or otherwise sought to complete the project" and the existing parking lot has been operating without authorization. Tomorrow, the Commission will consider a request to re-authorize use of the site as a parking lot for another two years.
At the same time, the Commission will also hear an overview of the entitlement history for 524 Howard, after which "the Commission may wish to provide feedback to Department staff as to whether a future public hearing should be scheduled to consider revocation or extension of the previous approvals for office development at 524 Howard Street."
Keep in mind that San Francisco's Planning Code states, "Construction of an office development shall commence within eighteen (18) months of the date the project is first approved. Failure to begin work within that period, or thereafter to carry the development diligently to completion, shall be grounds to revoke approval of the office development."
That being said, citing a "downturn in the economy which led to a high office vacancy rate and difficulty in obtaining commercial financing for new construction" in 2002, San Francisco's Planning Commission has since been operating under a policy of monitoring, but not seeking to revoke, approvals for projects which have exceeded their construction commencement date.
In 2009 the Commission reaffirmed the policy they adopted in 2002, but we might argue that commercial conditions south of Market in San Francisco have changed a bit since.