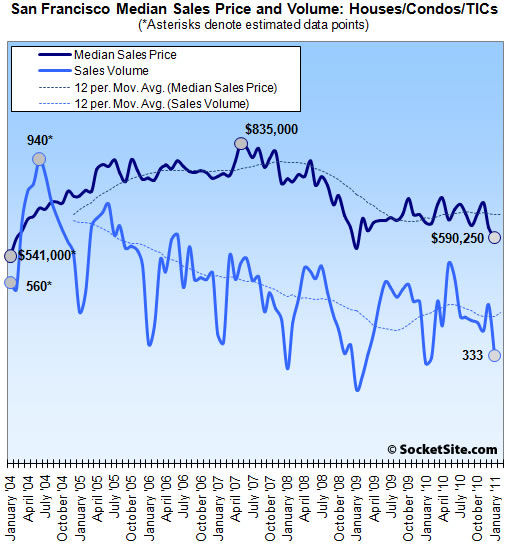 Recorded home sales volume in San Francisco increased 7.1% on a year-over-year basis last month (333 recorded sales in January 2011 versus 311 sales in January 2010), down 32.2% as compared to the month prior (which was down 1.6% on a year-over-year basis) and versus a 15% year-over-year increase in listed sales volume.
For context, January sales figures for San Francisco from 2004 to 2009 were 558 (2004), 469 (2005), 369 (2006), 402 (2007), 293 (2008), and 229 (2009). On average, from 2005 to 2010 sales volume has declined 34.7% from December to January.
San Francisco's median sales price in January was $590,250, down 6.2% compared to January '10 ($629,000) and down 4.3% compared to the month prior.
For the greater Bay Area, recorded sales volume in January was up 2.3% on a year-over-year basis, down 30.8% from the month prior (4,966 recorded sales in January '11 versus 4,853 in January '10 and 7,178 in December '10) as the recorded median sales price dropped 3.4% on a year-over-year basis and 9.9% month-over-month.
Foreclosure resales – homes that had been foreclosed on in the prior 12 months – rose in January to 34.7 percent of the Bay Area's resale market – the highest since last February. Foreclosure resales have risen or stayed the same for six consecutive months. January's figure was up from 30.1 percent in December but down from 36.3 percent in January 2010. Foreclosure resales peaked at 52.0 percent in February 2009. The monthly average for foreclosure resales over the past 15 years is about 9 percent.
Last month 29.8 percent of all sales were for $500,000 or more, down from a revised 34.3 percent in December and the lowest since 27.0 percent in April 2009. The all-time low was January 2009, when 22.7 percent of sales crossed that threshold. Over the past decade, a monthly average of 44.9 percent of homes sold for $500,000 or more.
At the extremes, Solano county recorded a 3.0% drop in sales volume (a loss of 14 transactions) on a 9.5% decline in median sales price while San Mateo recorded a 4.8% increase in sales volume (17 transactions) on a 12.9% decrease in median price for the second month in a row.
As always, keep in mind that DataQuick reports recorded sales which not only includes activity in new developments, but contracts that were signed ("sold") many months or even years prior and are just now closing escrow (or being recorded).
∙ Slow 2011 Start for Bay Area Housing Market [DQNews]
∙ SF Listed Sales Volume Up 15% In January Driven By Low-Cost Areas [SocketSite]
∙ San Francisco Recorded Sales Activity Down 1.6% YOY In December [SocketSite]
∙ San Francisco Recorded Sales Activity In January: Up 35.8% YOY [SocketSite]
∙ San Francisco Recorded Sales Activity Down 17.8% YOY In November [SocketSite]
∙ San Francisco Bucks CA Foreclosure Trends, But Not In A Good Way [SocketSite]