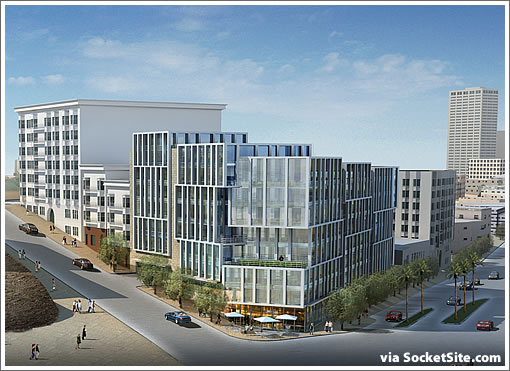 As plugged-in people know the proposed Arquitectonica designed development for 1960-1998 Market Street was unanimously approved by the Planning Commission in June.
Now seeking two amendments to the terms of the previously granted approval (to satisfy the Affordable Housing requirement by providing its required below market rate units off‐site rather than on‐site and reduce the number of car‐share spaces from six to two), the development is back in front of San Francisco's Planning Commission tomorrow afternoon.
Section 415 requires that off-site affordable housing must be within a one‐mile radius of the market rate housing site and requires a higher percentage of BMR units (20% versus 15%) relative to on-site affordable housing units, resulting in a net gain of six affordable units off-site and up to 17 market rate units on-site. The area devoted to parking is being reduced by eliminating the subterranean portions of the parking garage. As amended, the parking garage is proposed to accommodate 52 off-street parking spaces in stackers, two car-share spaces in tandem and two disabled spaces that would be independently accessible. As a result, the ground floor commercial space would be reduced to approximately 7,300 square feet subdivided into smaller retail spaces.
The Planning Department's recommendation: approve (with conditions).
Once again, as proposed the project would demolish the single-story ConocoPhillips Union 76 Service Station and surface parking lot and yield a mixed-use building with 115 residential units over ground floor commercial and partially subterranean garage for 69 independently accessible off‐street parking spaces.
∙ The 1960-1998 Market Street Scoop: Unanimously Approved Design [SocketSite]
∙ San Francisco Planning Commission Agenda: December 15, 2010 [sf-planning.org/]
∙ Now THAT's Not The Arquitectonica Design For Market At Buchanan [SocketSite]
∙ Now THAT's The (An) Arquitectonica Design For Market At Buchanan [SocketSite]
∙ Movement On Up To 115 Housing Units At Market And Buchanan? [SocketSite]