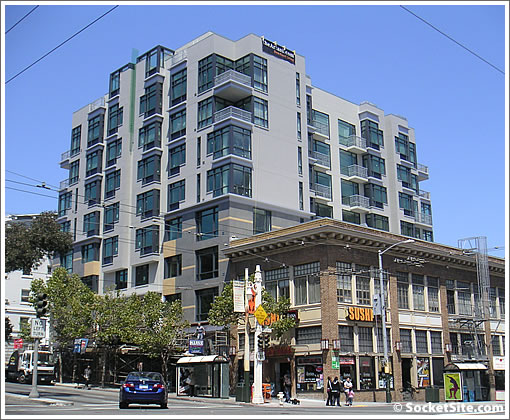 As plugged-in people first knew to expect, unsold units at the Artani (818 Van Ness) have started rolling back on to the MLS as listed inventory.
One-bedrooms with parking are now listed from $489,000 (down 18% "from $599,000" in 2008), one-bedrooms with two baths from $549,000 (down 21% "from $699,000" in 2008) and two-bedrooms from $699,000 (down 12% "from $799,000" in 2008).
No word on exactly how many of the 54-unit building's rental residents exercised their first right of refusal to purchase, but we would be interested if you know (tips@socketsite.com).
UPDATE (3/25): A plugged-in resident tipster reports:
They are setting up a sales office on the ground floor in the permanently vacant (so far) retail space. I am still a tenant here and will not be exercising my first right of refusal as I believe the price and HOA fees are just too high.
They plan on selling floors 2-6 first. The cheapest units are at the front of the building on the 2nd floor (no side windows as it shares a wall with the sushi joint. Floors 7-8 are done to a higher spec. Seems a majority of the building is empty now. Most tenants moved in about a year ago and their leases ended. There has been a revolving door of moving trucks here in the last 3 months.
Also, they have a bunch of maintenance folks fixing up the units for sale after a tenant vacates. They will all be in near perfect condition. I've had a walk through some of the staged units and they look great.
∙ Artani (818 Van Ness) Scoop Redux: Unsuspending Sales [SocketSite]
∙ Listing: 818 Van Ness #208 (1/2) 795 sqft – $549,000 [MLS]
∙ Listing: 818 Van Ness #305 (1/1) 645 sqft – $489,000 [MLS]
∙ Listing: 818 Van Ness #307 (2/2) 990 sqft – $699,000 [MLS]
∙ The Artani (818 Van Ness) Opens And A Plugged-In Reader Reports [SocketSite 9/08]
∙ A Plugged-In (Artani) Resident Tipster Reports On Round Two [SocketSite]