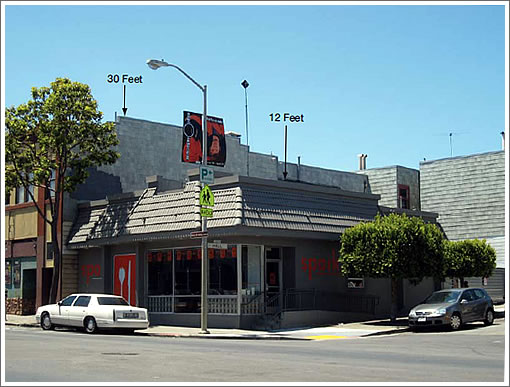 The 1970's construction at the corner of Valencia and Hill was home to Kentucky Fried Chicken prior to becoming "Spork" in 2006. And as is proposed, the one-story building would be razed and a five-story mixed-use development would rise in its place.
The ground floor of the structure and a portion of the basement would contain a 3,500-square-foot commercial space (assumed to be in the form of a restaurant) with floors two through five containing a total of 16 residential units. The residential unit mix would consist of eight studios and eight two-bedroom units, with two of each type of unit on every residential floor.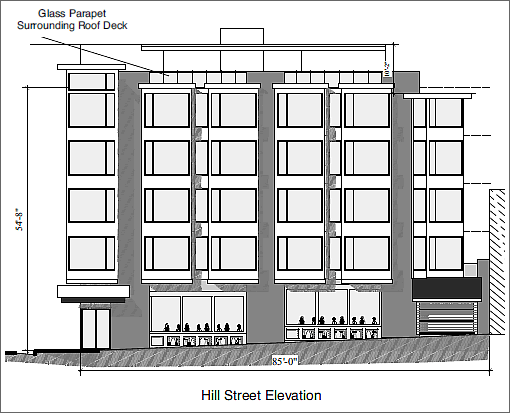 A 1,460-square-foot rooftop deck would provide common open space to the residents. In addition, four of the dwelling units would have private decks, which would encompass a total of 640 square feet (combined).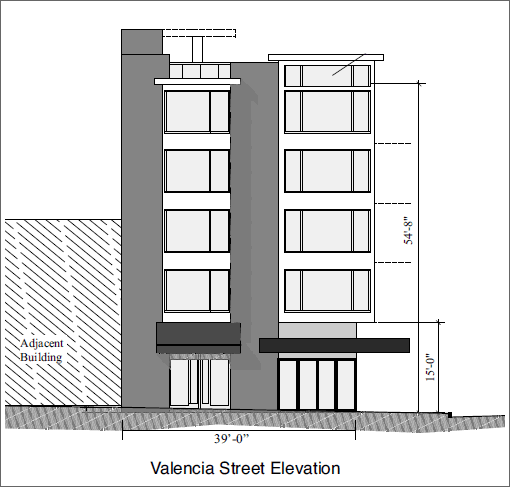 The proposed structure would be approximately 55 feet in height to the roof, with rooftop features, including the mechanical penthouse for the elevator overrun, extending an additional nine feet above the roofline.
Apparently Spork would have the first right of refusal to reoccupy the new commercial space, "an option that Spork's owners have indicated they intend to exercise."
And while no new parking would be created and the current single space would be reserved for commercial use, the proposal calls for widening the sidewalk along Hill Street by six feet in front of the development which would result in the loss of two on-street parking spaces.