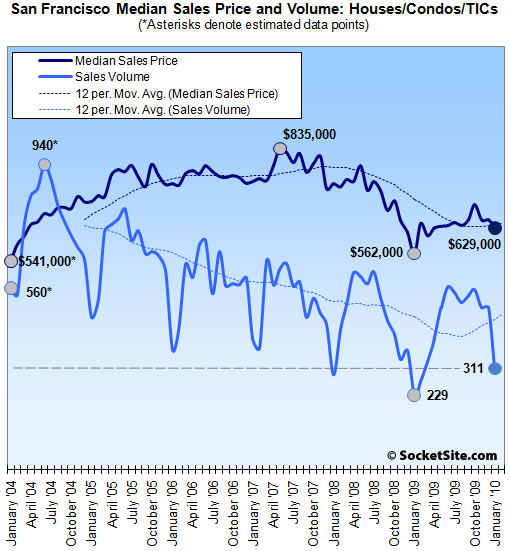 According to DataQuick, recorded home sales volume in San Francisco was up 35.8% on a year-over-year basis last month (311 recorded sales in January '10 versus 229 sales in January '09) but down 37.7% compared to the month prior.
For context, January sales figures for San Francisco from 2004 to 2008 were 558 (2004), 469 (2005), 369 (2006), 402 (2007), and 293 (2008) while the average December to January sales volume drop from 2004 to 2009 was 34.1%.
San Francisco's median sales price in January was $629,000, up 11.9% compared to January '09 ($562,000) but down 3.2% compared to the month prior.
For the greater Bay Area, recorded sales volume in January was down 3.9% on a year-over-year basis and down 38.0% from the month prior (4,853 recorded sales in January '10 versus 5,050 in January '09 and 7,828 in December '09), while the recorded median sales price rose 16.7% on a year-over-year basis, down 7.9% compared to the month prior. Continue to think mix (and seasonality).
Last month's median dipped more sharply from December as the portion of sales involving foreclosures and homes in lower-cost areas rose relative to December. However, the median remained higher than in January 2009 because a year ago low-cost foreclosures were far more plentiful, lower-cost inland areas represented a substantially larger portion of total sales, and high-end sales were extremely slow. All of that made for an unusually low January 2009 median of $300,000.
Financing has flowed more freely for low- to mid-priced homes. Federally-insured, low-down-payment FHA loans, a popular choice among first-time buyers, made up 25.6 percent of Bay Area purchase loans last month. That was up from 25.1 percent in December, 24.7 percent a year ago and 0.7 percent two years ago.
While San Francisco recorded the greatest Bay Area year-over-year increase in January sales volume (a gain of 82 transactions), Sonoma recorded a 21.2% decline in sales volume (a loss of 90 transactions) on a 8.4% increase in median sales price.
As always, keep in mind that DataQuick reports recorded sales which not only includes activity in new developments, but contracts that were signed ("sold") many months or even years prior and are just now closing escrow (or being recorded).