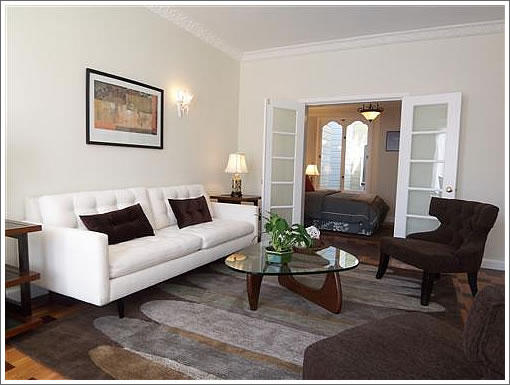 Asking $699,000 when originally marketed by Brown & Co. but then re-listed, reduced and withdrawn at $549,000 last month, 3731 Fillmore Street #2 is back on the MLS with a "list price" of $295,888 (from the listing: "Must sell by tuesday, february 24th. Auctioned to the highest bidder at the property.").
Keep in mind it's one of six units in a TIC building and the parking is leased. And do let us know if you go (or figure out at what time).

UPDATE: Additional insight from a plugged-in agent:
5 of the 6 are vacant, so expect 4 more to hit the market soon. #6 sold for $710k in Oct '08.
My guess is they are about 800 SqFt, maybe a bit more. Definitely could be sold as a 2BR since the dining room has a closet and window. Also has laundry hook ups in each apartment, and there is a garage, but they are selling spots separately. Roof deck is spectacular, small shared yard is just OK.
Not great news for the buyers of number six (who might share the last name of Brown).
∙ Listing: 3731 Fillmore #2 (1/1) – $295,888 (auction) [MLS]